"Trek Talks" Launched to Celebrate Star Trek's 50th Anniversary
"Trek Talks" Launched to Celebrate Star Trek's 50th Anniversary
---
By StarTrek.com Staff
CBS Consumer Products will commemorate Star Trek's 50th anniversary by launching a "Trek Talks" series, it was announced today. Trek Talks is an ambitious initiative that will bring fans together a new and exciting live event program that will explore Star Trek's influence and impact via lectures – held around the world -- by leading thinkers who will comment on how Star Trek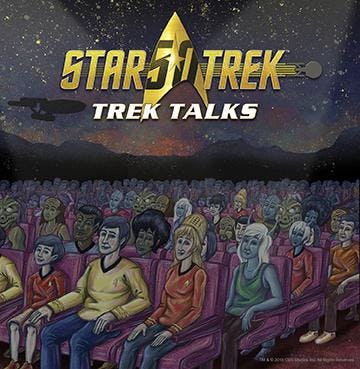 s and festivals, as well as other non-profits and commercial corporations. Those groups will partner with CBS to either select a topic from a variety of themes that span Trek's scope of influence or develop a theme of their choice. Among the theme options:
Our Single World - Envisioning a future multicultural universe
The Prime Directive - Exploring our universe, ethically
Trek Tech - Examining Star Trek's impact on the information age
A Trek Economy - Evaluating Star Trek's economy to address world issues
Science of Star Trek - Recognizing Trek's influence on scientific exploration
A Star Trek Society - Addressing our world's issues for 50 years
Thinking Boldly - Today's philosophical issues in Trek's tomorrow
The Final Frontier - Star Trek's 50-year influence on the space industry
"Star Trek, reaching beyond pure entertainment, has helped shape our collective perspective," Liz Kalodner, Executive Vice President and General Manager of CBS Consumer Products, said in a statement. "From technological advancements to racial and economic equality, Star Trek has broached a broad and varied range of subjects over the years. These Trek Talks will address its impact and provide an entertaining and educational forum to discuss such influence." Participating organizations will develop, promote and stage their respective events during Star Trek's 50th anniversary from July 2016 to July 2017. Current organizations include NASA, Toronto International Film Festival, Intrepid Sea, Air & Space Museum, EMP Museum, and the Canadian Space Agency. Fans can also expect Trek Talks at such significant pop-culture and entertainment events as San Diego Comic-Con in July, the Star Trek Las Vegas convention in August, Star Trek: Mission New York in September, and Destination Star Trek Europe in October.Go to www.TrekTalks.com for more information, and keep an eye on StarTrek.com for news about Trek Talks as they're scheduled.