Wallace Langham, Star Trek: Voyager's Flotter T. Water III
Wallace Langham, Star Trek: Voyager's Flotter T. Water III
---
CSI: Crime Scene Investigation
Weird Science, The Invisible Kid
The Larry Sanders Show, Veronica's Closet, What About Joan, The Social Network
StarTrek.com -- and many fans -- loved Langham's performance in "Once Upon a Time" and we've been looking for an excuse to interview the actor. And we found one. He co-stars in the film Somewhere Slow, playing now in limited theatrical release and available on VOD. Glee's Jessalyn Gilsig plays a troubled woman who, after witnessing a fatal convenience store robbery, pretty much runs away, ditching unfulfilled relationships with her husband (David Costabile) and mother (Lindsay Crouse), and making an unexpected connection with a young drifter (Graham Patrick Martin) who's contending with his own personal issues. Langham appears quite memorably as creepy photography whose home is nothing less than a drug den. Langham recently chatted with StarTrek.com about Voyager, Somewhere Slow, CSI and his upcoming projects. Here's what he had to say.
Let's go back to Star Trek. First, how familiar were you with the franchise when you did your episode of Voyager?
LANGHAM: Of course, I knew The Original Series from when I was a kid, although I hadn't kept up with the newer ones. To be honest, I only knew about Next Generation. I had never seen Voyager.
How did the episode come your way? Did you audition? Did they call you?
LANGHAM: Honestly, my memory fails me. I think that I read for it, but it is possible that they called me in.
What intrigued you about Flotter, and how much free rein did you have in playing the character?
LANGHAM: I loved Flotter's excitement. He seemed theatrically whimsical. Ready for the next adventure. I remember being encouraged to be bigger, more theatrical than what I was used to. But, as far as the words went, I had to stick to the script.
What do you remember of the costume and makeup, as neither looked particularly comfortable?
LANGHAM: The whole process was wild. I started with costume, where they had this amazing fabric that looked like fish scales. Then it was off to special effects. It was the first time I got "plastered." They covered my whole head in plaster to make the mold. The finished appliance, full-eye contacts, and makeup took about an hour. The costume was most interesting because it had a hidden zipper, which was hard unzip. Somehow I made it through the entire day without having to go pee.
How did you enjoy your time on set? Did you know anyone going in? Did you get to know anyone on set?
LANGHAM: I remember having a nice time on set. It was hard to see anyone, because of the contacts. I think the only people I kind of knew were the special effect make-up folks, and that was because I'd worked with cousins of the Westmores.
When was the last time you saw the episode, and how does it hold up for you?
LANGHAM: I hate to admit it, but, I don't think I've seen the episode since it aired. I'd love to see it again.
You've actually done your fair share of genre fare: Weird Science, Twilight Zone, The Invisible Kid, Martians Go Home, Voyager, The Outer Limits, Medium, The Batman, Transcendence, etc. Are you a genre fan? Is that where the occasional opportunity has come up? A little of both?
LANGHAM: I'm not sure that I consider myself a genre fan, I'm not smart enough. Although when I get the chance, I have a blast with the characters. They are the most fun to play.
Your latest film is Somewhere Slow. It's a very quirky little indie. How did it find you or you find it?
LANGHAM: Yeah, Somewhere Slow is a compelling piece, for sure. About 4 or 5 years ago, my dear friend, Tamara Lynn Davis (she plays Janine) told me about a script that her friend Jeremy (O'Keefe) had written and wanted to know if I would be available for a reading of it. I said yes, thinking that I was only reading David Costabile's role. When I got to the theater, Jeremy asked me to read Paul as well. I got big laughs as Paul without meaning to. Then a couple of years passed and I got an email from Jeremy asking if I would play Paul. I thought it was a great opportunity to do a complete 180 from CSI.
You make quite an impression during your moments as Paul. First, what interested you about the character? And how much leeway did you have in playing the scene, as it feels very improvised?
LANGHAM: You know, I was really attracted to playing a character without shame. Personally, I'm kind of reserved, and I thought Paul was a good excuse to let loose. Jeremy was great about collaborating with me. I love that. I believe it's the best way to make a project great. So, I had as much latitude as I wanted, but I consulted with Jeremy along the way about not making Paul a cartoon. Interestingly enough, we stuck pretty close to the script. The only real improv is when I yell at the dog. That dog was a pro, didn't even flinch.
The character is really sleazy. How surprised do you think your fans will be to see you in this role?
LANGHAM: I hope that my fans are surprised. That was my intention. I don't want them to be bored.
How pleased are you that thanks to the limited theatrical release/VOD release, moviegoers will actually get a chance to see the movie?
LANGHAM: I gotta say, I like it. I'm a bit of a luddite when it comes to technology, but I'm smart enough to embrace innovation. I think the fact that we can get more people's attention faster is a great thing.
You've also got Transcendence on the way, out in April. That's a huge movie with Johnny Depp. Who do you play and how does the character fit into the storyline?
LANGHAM: I play Dr. Strauss. He gives Johnny Depp and company some bad news early on in the film. It's the type of role that was important to the entire picture. Without it, the plot can't progress. You can see the side of my head in the trailer, which is most of what I do in the film.
And then there's Buttwhistle, which is another indie, and also Draft Day, which is a big-name sports comedy. Same questions: what do you play in each of those films and how do you figure into the action?
LANGHAM: In Buttwhistle, I play a dad. I don't get to play dads that often. Mr. Confer is an average guy, with an average wife, or so it seems... In Draft Day, I play Pete Begler, the fictionalized General Manager of the Kansas City Chiefs. Pete's trying to acquire Sonny Weaver's (Kevin Costner) quarterback. Interesting thing about that scene: I had to act a phone call with Kevin, but he had finished shooting the day before. So, I did my scene to his recorded take. It was tricky.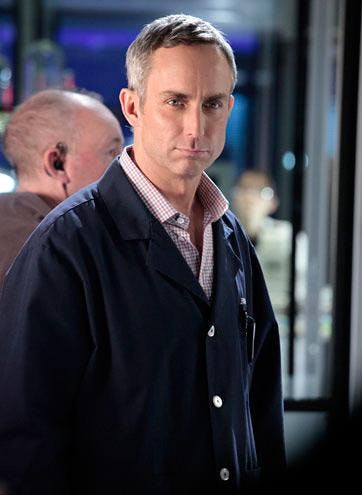 Let's also talk about CSI for a few minutes. When you signed on in season three you couldn't possibly know you'd be there 12 years later. How surreal an experience has it been?
LANGHAM: This is gonna sound completely fake, but it's true: CSI has been the greatest gift to me. In season 3, I replaced an actor who wasn't available. I hadn't seen the show. I had no idea what I was doing. Thankfully, William Petersen was a fan of mine, and took pity on me. The fact that it has snowballed into a 12-year gig still floors me.
How would you say Hodges has evolved as a character since we first met him, and give us a feeling for what's coming up for him on the show.
LANGHAM: I think there's a deepening to Hodges, a maturation that's occurring. He seems more confident in his work. His love life is a totally different matter. I'm not sure what surprises are in store for Hodges. I'm looking forward to season 15 to find out.
And let's end this by bringing CSI and Star Trek together. Hodges' cat is named Kobayashi Maru. Was that your idea? If not, whose? And either way, given your own Trek connection, how cool is the inside joke?
LANGHAM: I wish that I was bright enough to come up with that. I believe that (veteran Trek writer-producer) Naren Shankar may have named the cat. It's an amazing fun fact.
Click HERE to check out the official Somewhere Slow Facebook page and HERE to watch "Once Upon a Time."