Trek Licensees Out In Force At Toy Fair
Trek Licensees Out In Force At Toy Fair
---
By StarTrek.com Staff
Star Trek licensees always make a big splash at the annual Toy Fair event in New York City, but this year's gathering, with the 50th anniversary of Star Trek right on the horizon, features many licensees – new and longtime licensees alike – unveiling a galaxy of Trek-themed products. Toy Fair is running now through February 16. StarTrek.com is pleased to present an overview of the Trek products on display.GundGUND will soon bring the classic characters of Star Trek: The Original Series to life as soft, huggable plush products. Each character will be dressed in proper Starfleet attire and featured as a cuddly animal. The initial launch will include Captain Kirk as a lion, Dr. McCoy as a dog, Spock as a cat, Uhura as a teddy bear and Scotty as a monkey.
Panic Board GameUSAopoly, in partnership with Fireside Games, announces Star Trek Panic, a new board game that merges the classic tower defense style play of the Panic series with the most iconic elements of the original Star Trek universe. In Star Trek Panic, players join the crew of the U.S.S. Enterprise on a voyage to defend the ship from enemy attacks and carry out five vital galactic missions.This cooperative light strategy game introduces new, never before seen, Panic game mechanics, including Mission Cards, which feature unique challenges based on TOS, as well as Character Cards, so players can assume the roles of Kirk, Spock and more. Star Trek Panic comes complete with a maneuverable U.S.S. Enterprise model ship, Shields, Damage and Destroyed Indicators, Mission Cards, Character Cards, Enterprise Cards, etc. Star Trek Panic will be available May 2016 at game & toy stores and specialty retailers in the United States and Canada. It will be priced at $39.95.
Wood Expressions – Tridimensional Chess SetWood Expressions, Inc., maker of WE Games brand of quality board games, will debut the first and only authorized re-creation of the Star Trek Tridimensional chess set. The collectible chess set, from the Franklin Mint, is based upon the one seen on board the starship U.S.S. Enterprise in the classic episode "Where No Man Has Gone Before." It is on display at Toy Fair and will be available in the near future.
MezcoMezco will soon expand its One:12 Collective line of Star Trek action figures by adding Captain Kirk to the mix. Due out in July, and joining the already announced Spock and Sulu, the Kirk figure will come fully attired and complemented by an array of accessories, plus alternate hands and heads. The Kirk, Spock and Sulu figures will be on display at the Javits Center.
Diamond Select ToysDST, for Star Trek's 50th anniversary, going back where it all began, to TOS, with a brand-new ship in the Starship Legends line. The Romulan Bird of Prey, with its low profile and distinctive underbelly markings, is as menacing and mysterious as the Romulan Empire it served. Measuring 9 inches long with a 12-inch wingspan, the Bird of Prey features dialogue and sound effects taken straight from TOS, as well as lights that are activated with the sounds, and can also be turned on permanently. The ship is packaged in a 50th anniversary-branded, full-color window box, with a Try-Me feature that allows buyers to try out the lights and sounds. Designed by Art Asylum, it costs $60.00.
QMx/Quantum MechanixQMx will, in May, introduce a new Star Trek Necklace Set. Inspired by Star Trek II: The Wrath of Khan, it features a Starfleet delta that's split in, thereby breaking apart the phrase "I Have Been And Always Shall Be Your Friend." Magnets in each half bring them together. Constructed from zinc alloy, it will cost $14.99
HallmarkStar Trek itty bittys are on the way from Hallmark as part of their celebration of Trek's 50th anniversary. The itty bittys Star Trek 50th Anniversary Set will feature plush fabric versions of Spock, McCoy, Kirk and Uhura, each measuring 3" W x 4" H x 2.25" D. Available now online and in stores, the set – which comes packaged in a collector's box -- costs $29.95.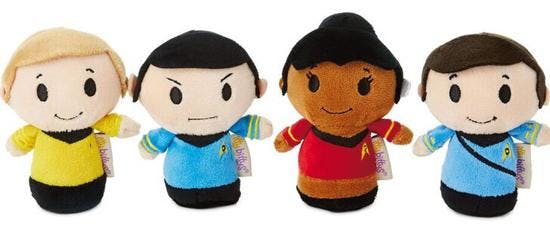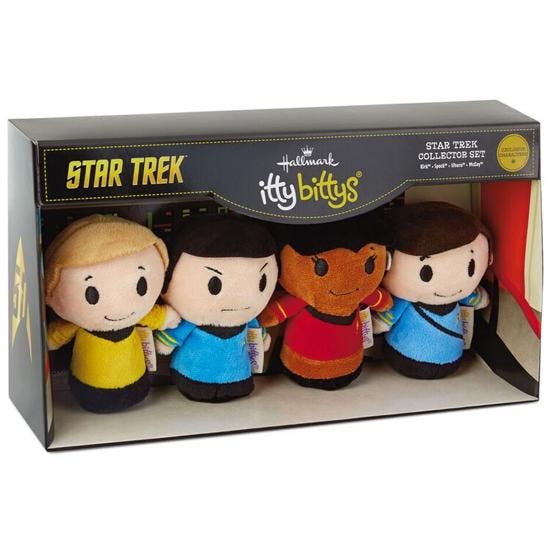 Titan
Titan Entertainment has lifted the curtain on Star Trek Season One TITANS, specifically the "Where No Man Has Gone Before" Collection. Part of Titan's ongoing mission to produce the finest collectible Star Trek vinyl figures, the TITANS - The "Where No Man Has Gone Before" Collection features characters from the first season of TOS, led by the trio of Captain James T Kirk, Spock and Doctor Leonard 'Bones' McCoy. Actually, all of the iconic bridge crew from season one of TOS are represented in the debut blind-boxed TITANS wave, including Uhura, Sulu, Scotty, Nurse Chapel and Yeoman Rand, alongside such classic Season One nemeses as the Balok, the Talosian Keeper, the Gorn and Khan Noonien Singh. Each figure is 3" blind-boxed, and certain pieces come with a character-specific accessory. Fans should be on the lookout for two hidden chase figures they can hunt and collect.
Mega Bloks/Mattel
Mega Bloks/Mattel is represented at Toy Fair by their Star Trek Collector Construction Sets. Fans can check out the finely detailed U.S.S. Enterprise NCC-1701 Signature Series, the Klingon D7 Battlecruiser, an Away Team Figure Pack, the Classic Bridge, and a Transporter Room. The products will be available later this fall.