Trek Class Blog: Inventing The Replicator
Trek Class Blog: Inventing The Replicator
---
By Professor Anthony Rotolo
Inventing the Replicatorby Professor Anthony Rotolo
Star Trek's replicator is an amazing technology concept that has fascinated us for decades. Working at the molecular level to synthesize materials, the replicator is able to instantly produce nearly any object, food or medicine on demand. It is easy to imagine how the replicator would quickly change the world. Such a device could dramatically reduce or even eliminate the cost of most products. Hunger and poverty would be stamped out worldwide, and much of the time and energy spent working for a living could be used instead for pursuits of education, exploration and the advancement of society.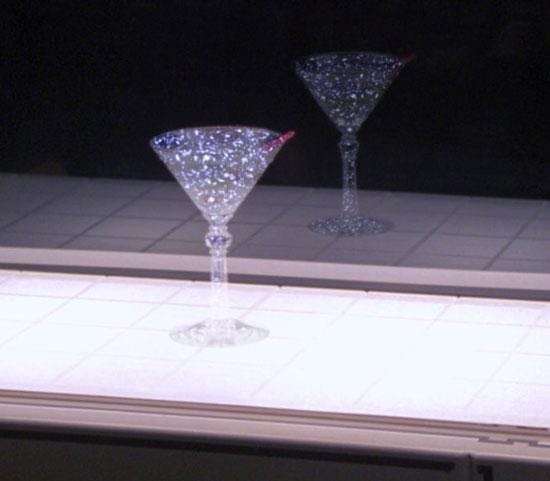 Star Trek envisions the future of humanity to be one of incredible achievements made possible by evolved philosophies as well as technologies. This hopeful view of tomorrow is perhaps the reason so many have dreamed of inventing real-life versions of Star Trek tech --  from the transporter to the tricorder -- and the replicator is one of the most coveted.From a scientific perspective, aspects of the replicator are theoretically uncertain. Researchers have made slow progress working in this area, but a true breakthrough on the scale of a Star Trek replicator seems centuries away. The day when we will prepare dinner or produce complex equipment at the push of a button (or with a voice command) could be as far away as our own 24th Century.
Even if the full vision of the replicator remains beyond our capabilities, perhaps some version of this technology is possible today. After all, the real appeal of the replicator is not in its molecule-synthesizing abilities, but in the value of instant, custom objects made on demand. This is a reality that some are working toward right now using new technologies that could eventually bring us much closer to making the replicator a reality.A process called "additive manufacturing," or its more popular nickname, "3D Printing," has captured the imagination of the tech industry. These machines work much like the two-dimensional printer you may have on your desk, but instead of printing a layer of ink, a 3D printer extrudes many layers of melted plastic to form a physical object. You can imagine this as similar to a hot glue gun, where the heated glue stick is carefully extruded from a nozzle. In the case of a 3D printer, that nozzle is controlled by software and digital design files that tells it how to form a shape.
Some have compared 3D printers to modern-day replicators, and it's easy to see how. Watching one in action is a wondrous experience, with objects that once had to be produced on a factory line fabricated in minutes by a machine not much larger than a microwave. Even complex objects with moving parts can be designed and created one-by-one with a little knowhow. It hardly seems like a coincidence that one of the more popular 3D printer models currently available is actually named the Replicator.The comparisons between 3D Printing and the Star Trek replicator don't end with plastic. Other materials like wood, metal and even some foods are now being extruded in similar ways to make on-demand creations. This has led to excited speculation that soon we may see the beginnings of a new era of manufacturing in America and around the world, where small-scale production is possible at very low costs. We may even "print" biotechnologies and human organs one day.
______________Anthony Rotolo is a professor at Syracuse University where he teaches "Trek Class." He is also the founder and "Captain" of the "Starship NEXIS," a lab that explores new and emerging technologies.