TOS Guest Star France Nuyen
TOS Guest Star France Nuyen
---
By StarTrek.com Staff
Most Star Trek fans will surely agree: France Nuyen, who played Elaan in The Original Series episode "Elaan of Troyius," was one of the most strikingly beautiful women ever to appear on the show. As the arrogant, spoiled character, she romanced William Shatner, rocked a Cleopatra-like wig, wore a variety of eye-popping costumes and cried tears that bent the wills of men. It was one of many strong performances Nuyen gave in her career – which also included a turn on Broadway in The World of Suzie Wong, the films South Pacific, Diamond Head and Battle for the Planet of the Apes, TV guest shots on Hawaii Five-O, The Six Million Dollar Man, Knots Landing, etc., a series regular role on St. Elsewhere, and more – but it remains the one with which she's most associated.Nuyen no longer acts, but she remains super-busy. She'll appear this weekend at The Hollywood Show in Los Angeles, where she'll sign autographs and pose for photos with fans. In advance of The Hollywood Show, StarTrek.com snagged a rare interview with Nuyen, who filled us in on her life today and talked about Elaan in extensive detail. Here's what she had to say…First, we know July 31 is your birthday. So, happy birthday to you…NUYEN: Oh, thank you so much.
What are you up to these days?
You'll be at the Hollywood Show. How do you enjoy meeting the fans, signing autographs and posing for photos?NUYEN: I think that each actor has a particular group of fans who are dedicated to a film or a show they've done, or to their whole career. Or they're dedicated to silent films or to Star Trek or The Twilight Zone.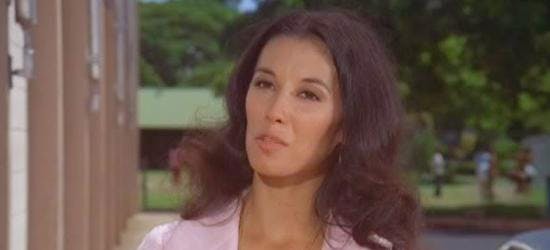 It is interesting to see the vast differences between each group of fans or even between individual fans. What do they collect and why do they collect it? How much do they know about what they collect? You get some who know everything about you or about a show or a movie and they want to add your photo, your autograph to their collection. Then you get some who just want to re-sell what they get, who want to make a buck, and they have no idea, really, who you are. So, it's a very interesting study. And here and there you find truly dedicated movie and TV fans, who know you, who know your role, who can recite dialogue that you don't even remember. So I enjoy it.Beyond Star Trek, what do the people who come to your table want to talk about and have you sign pictures from?NUYEN: I think my biggest fans are fans of South Pacific. Hawaii Five-O is very popular. So is The Man from U.N.C.L.E. Often, it's films and shows I wouldn't expect, which is always nice. They'll ask, "How was this experience or that experience." "Are you still friends with so and so?" I'm often surprised by what they ask about. One time, in Italy, I met a fan who came to my table dressed as Elaan of Troyius. She wanted to have a picture taken with me. I loved that. How did you land your role on Star Trek?NUYEN: I think it was kind of an offer. They had me come, but I think they'd made up their minds and had me come in just in case I had green hair or something. I went in. I didn't read. They asked me if I wanted to do the show. I said, "Yes, I'm interested." They said, "Well, can you start Monday?" I think they handed me the script and I went straight from their office to have my fittings.
You had the most beautiful costumes and such exotic hair and makeup. What do you remember of the process of making that all happen?
Isn't there a funny wig story?
You'd worked with Shatner before in The World of Suzie Wong and you worked with him again later, twice actually. How was the experience?
The Horror at 37,000 Feet
The episode holds up well and so do the performances, but for many years now people have been saying elements of it are sexist and even racist. What are your thoughts on that?
---
Follow us for more news at StarTrek.com and via our social media sites.