TNG & DS9 Director Paul Lynch Looks Back, Part 2
TNG & DS9 Director Paul Lynch Looks Back, Part 2
---
By StarTrek.com Staff
Yesterday, in the first half of our extensive, exclusive interview with Paul Lynch, the veteran Star Trek director revealed how he first came aboard The Next Generation and shared his memories of his five TNG adventures. Today, in the second half of our interview, Lynch discusses his five DS9 installments, talks about his other credits, including the venerable horror flick Prom Night, and shares his plans for the future.
Who brought you on board for DS9?
Lynch: It was Rick Berman and, again, that was after a pilot. A friend of Rick's had done the pilot, an Englishman named David Carson. So, again, I got the first show after the pilot, which they thought was lucky, or something.
How different a set was Deep Space Nine?
Lynch: Well, it didn't have Patrick Stewart, and that was the difference. And the cast was not quite as good. It was OK, but without Patrick, it was an almost completely different show. And it was often hard to make it work. There was a problem with the lead actor. I had worked with Avery Brooks on a Spenser television movie, and he was sensational and terrific. But for some reason, they weren't happy with what he was doing or what he had done in the pilot. So we kind of butted heads, which was unusual, because we hadn't on Hawk. He'd been doing Hawk on Spenser for Hire for, I think, five years. So he knew Hawk, and that was fine, but this was a different character for him. So he'd done the (DS9) pilot and normally, by the pilot, the characters are set, the way they're going to be played. That's how he was playing it, but Rick had problems with the pilot and he had problems with my episode.
Let's go through your DS9 episodes, starting with "A Man Alone" and "Babel."
Lynch: I don't remember as much about DS9 as I do about The Next Generation, but let's try. "A Man Alone" was the mystery episode with Odo. It was like a space thriller. I don't really remember much about it. "Babel" was fun. I don't remember much, except that it was kind of fun.
"Q-Less" was the one and only Q episode of DS9…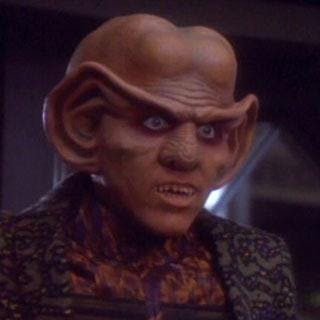 Lynch: That was a good one. We had John de Lancie and Jennifer Hetrick, and it was like a Moonlighting episode. They were terrific. The characters were at each other's throat, with the rest of the cast in the middle of it. It was like an old 40's comedy. John was wonderful, andso was Jennifer. I remember that being great fun. It also had a terrific subplot with the Ferengi. Armin Shimerman is a great actor. I will tell you a funny Armin Shimerman story. He had to get there three hours before everyone else. I got to set one day at around a quarter to 7, and he'd already been there for three hours. He's got the Ferengi head on and he's in a shirt, jeans and running shoes. He comes in to get a coffee. I'm standing there talking to him and we're talking about Broadway and plays. We talked for about 10 or 15 minutes and he's got to go back and get into costume while everyone else is coming on to set to work. As he walked away it suddenly hit me that I just had a complete conversation about Broadway with some strange-looking creature, and the conversation was as normal and natural as talking to you now. That was eerie. That's how real the makeup on his head was.
"The Passenger" and "Battle Lines"...
"Battle Lines" aired in April of 1993, and it ended up being your last Trek episode. Why did you not return for more?
Lynch: I went away and did other things. I just never got back to the show. I went to Canada and did a show there called Top Cops. I did 43 episodes of that. What was good about Top Cops was it was an anthology, different actors every time out, half an hour, and kind of like Twilight Zones, though they were based on true cop stories. Each one was a separate entity, so it was like doing a short every week, with a new story and new actors.  I just kept signing on for them.
Star Trek aside, what of your other directing work are you proudest of?
Lynch: I've been very lucky because I've gotten to do a lot of work and, for the most part, the writing was good. I got good episodes to work on. I've had a chance to do all sorts of things, including a lot of wonderful TV movies. It's really hard to pick favorites. I'd say Moonlighting, absolutely. I did several Twilight Zones. I did a show called Darkroom, an anthology show for Universal, way back when. Different actors, different stories every time.
We can't believe you've not mentioned Prom Night yet.
You haven't been as prolific lately as you were in the past in part because you took several years to help raises a friend's daughter. What are you up to now?
Lynch: I'm trying to put some films together. That's what I'm interested in doing. I don't feel too badly about it. I was just reading about Whit Stillman, who did some wonderful movies, including The Last Days of Disco, and it was 13 years since he did that until Damsels in Distress, which is out now. It's only been 8 years for me. So I've got another five to go.
Click HERE to read part one of our StarTrek.com interview with Paul Lynch.