The Best of William Windom
The Best of William Windom
---
By David McDonnell
I love character actors.
They're the real strength of any TV show or movie -- the gruff authoritarian bosses of the story's protagonists, the wise old men of a certain age (often crusty doctors, businessmen, judges, clerics), the villains of all types (heavies. mediums, regulars). Eccentric sidekicks, murder victims, red herrings. The background color.
These are the guys an audience is always pleased to see, familiar faces, old friends. You know with them that you're gonna get a highly intriguing performance—or at the very least some formidable scenery chewing.
The Trek saga has been blessed with a stellar lineup of great character actors in major roles: among them, DeForest Kelley, James Doohan (Classic Trek); Patrick Stewart, John de Lancie (Next Generation); Avery Brooks, Rene Auberjonois, Armin Shimerman, Marc Alaimo, Andrew Robinson, Jeffrey Combs (Deep Space Nine), Robert Picardo, Ethan Phillips (Voyager) and John Billingsley (Enterprise). Quite a magnificent list!
And, yes, Stewart and Brooks were their Trek's leading men, but remember that earlier in their careers, both actors were primarily known for character parts.
Now, I have to confess while editing Starlog, I just loved being able to commission and publish interviews with character actors who made significant genre appearances. Like William Windom.
I had seen him before, but Windom first really registered with me for My World and Welcome To It. In that short-lived sitcom, he played John Monroe, a writer-cartoonist modeled on the late James Thurber (kinda my idol) who worked for a magazine like The New Yorker (Thurber's turf) and coped with his family. The 1969-70 cult TV series blended animated elements of Monroe's Thurberesque imaginings with live action sequences. Windom was so good in it that he won the Best Actor Emmy.
Windom spent a half-century as a perennial guest star on most every major series -- favorites of mine (Columbo, The Twilight Zone, The Wild Wild West, Banacek, The Fugitive, Mission: Impossible, Hawaii Five-O, Gunsmoke, all readily available on DVD) and many other notable shows (Mannix, St. Elsewhere, Quincy. M.E., Kojak, The Invaders, The F.B.I., Twelve O'Clock High, Fantasy Island, The Greatest American Hero, The Love Boat, Barney Miller, All in the Family, Dallas, Murphy Brown, The Mod Squad, Ally McBeal, The Bionic Woman, The A-Team, L.A. Law, Magnum, P.I., Cannon, The Waltons, Ironside, The Incredible Hulk, etc.). But he was probably best known as a regular presence on Murder, She Wrote as Jessica Fletcher's pal Dr. Seth Hazlitt.
His movie appearances were less frequent -- The Gypsy Moths, Escape from the Planet of the Apes (as the U.S. President), Hour of the Gun (a fine Western), Fools' Parade, The Detective, etc. He had small roles in two of my favorite films ever (The Americanization of Emily, To Kill a Mockingbird).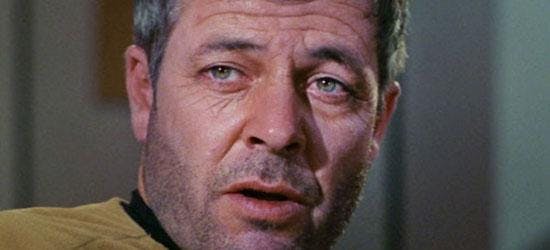 Starlog, of course, interviewed Windom regarding his important Trek guest role as Commodore Matt Decker, the increasingly crazed Starfleet officer obsessed with destroying "The Doomsday Machine." His character's son Will (Stephen Collins) appears in Star Trek: The Motion Picture, his filial dislike for James T. Kirk on active display.
In 1988, I dispatched Bill Warren (film historian author of the highly recommended, definitive look at 1950s SF flicks, Keep Watching the Skies!) to chat with Windom (who died in 2012). It was a coveted interview assignment among my contributors. "That's very good to hear," the actor said in issue #129, "because I tend to horse around a lot. That doesn't mean I don't work hard, because I do, but I'll be goddamned if I'm going to take it too seriously." Furthermore, he declared, "As an actor, you make money by having them know exactly who you are and what you're gonna do, and that's what they come back to see again, in one form or another. I'm not a star, there are only about 25 stars in the whole world."
Windom talked about his real-life, Decker-like rivalry with William Shatner (who Windom had earlier served as understudy in a "little bomb in New York called The World of Suzie Wong"). "None of this is his fault," Windom admitted, "it's all my fault, just me being resentful."
As for the Trek episode, "For what it was, it wasn't bad at all," Windom allowed.
He was impressed how "Doomsday Machine" director Marc Daniels lensed Decker's final, self-destructive scenes, carefully framing Windom in a head shot as he simply sat in a chair on set. "People have come up to me for the past 20 years and said [whispers], 'That was wonderful, what did you feel, what did you see?'" Windom told Warren. "I said, 'I'm in a chair, trying to get out to lunch. Back to my chess game, I was in a hurry.'"
A few years later, I did a Trek convention where Windom also guested. And despite the many celebs I've met, I was starstruck about approaching him at his autograph table. Finally, I did. I mentioned the Starlog interview and the Rebel-Batman connection and how much I had liked his performance in a poignant, Emmy-nominated episode of Rod Serling's Night Gallery, "They're Tearing Down Tim Riley's Bar" (with Windom as another Serling-scripted, exhausted executive coping with life passing him by). I reported that in the early 1970s, I had persuaded my Dad to drive me miles away to Lancaster, Pennsylvania, where Windom was on tour in his one-man stage play Thurber. And I noted that he had been terrific on stage portraying curmudgeonly cartoonist-writer James Thurber.
"Well, if you've seen Thurber and 'Tim Riley's Bar,'" William Windom told me, eyes twinkling, "then you've seen me at my very best."
David McDonnell, "the maitre'd of the science fiction universe," has dished up coverage of pop culture for more than three decades. Beginning his professional career in 1975 with the weekly "Media Report" news column in The Comic Buyers' Guide, he joined Jim Steranko's Mediascene Prevue in 1980. After 31 months as Starlog's Managing Editor (beginning in October 1982), he became that pioneering SF magazine's longtime Editor (1985-2009). He also served as Editor of its sister publications Comics Scene, Fangoria and Fantasy Worlds. At the same time, he edited numerous licensed movie one-shots (Star Trek and James Bond films, Aliens, Willow, etc.) and three ongoing official magazine series devoted to Trek TV sagas (The Next Generation, Deep Space Nine, Voyager). He apparently still holds this galaxy's record for editing more magazine pieces about Star Trek in total than any other individual, human or alien.
Copyright 2014 David McDonnell