Star Trek: The Cruise II - Day 6
Star Trek: The Cruise II - Day 6
---
By StarTrek.com Staff
Day Six of Star Trek: The Cruise II brought the festivities to a close, but not before fans experienced nearly 15 hours of wall to wall programming, from panels and parties to a Klingon Pub Krawl and karaoke, and from Gates' Tap Class to Gorn's Gong Show. Here's a recap on just some of the day's highlights...
Deep Space Nine Reunion
Poolside was the place to be for this chat, led by Ian Spelling, with Nana Visitor, Rene Auberjonois, Armin Shimerman, Michael Dorn, Vaughn Armstrong, Jeffrey Combs, Casey Biggs and Max Grodenchik. Much of the conversation centered on the show's 25th anniversary, which will be celebrated in the upcoming documentary, "What We Left Behind."
"Wow, 25 years," Dorn said. "All these years later you have a different outlook. What's interesting is that I found I can look at it differently now."
"Documentaries are complex," Auberjonois notes. "It's an animal that takes over. It will be more interesting than what we could have known. Plus, Armin and I had a hot affair. That'll be in there."
"Only two weeks!" Shimerman swore, referring to the supposed affair.
The supporting/recurring actors marveled at how the writers and producers made time to develop their respective characters. "I loved it," Armstrong stated. They just started giving me things and having this (acting) instrument allowed me to play those characters. It was amazing."
Grodenchik said he "wondered if I would be back each season." And he was, which was a gift that kept on giving. Shimerman interjected, "We boldly stayed in one place. And because of that we could do all the recurring characters. Max was as equally an important character as Quark."
Combs couldn't pick one guest star with whom he was most excited to have shared scenes. "I have four..." he noted and cited Andrea Martin, Henry Gibson, Iggy Pop and Louise Fletcher.
Visitor thought long and hard when asked what Major Kira might be up to if someone were to make a two-hour reunion telemovie. "I imagine she became more powerful and more alone," the actress said. "There's a sadness there."
Discussing DS9's legacy, Biggs noted, "To each individual, I would compel you to be conscious of what you leave behind."
Utopia Planitia Shipyards Sea Trials
But does it float? Can it transport 6 beers across the pool? Those were among the criteria during this poolside contest that pitted fan-made boats — made of garbage! — against fan-made boats. Among the boats: an Imperial battle cruiser (cloaked; so it was hidden within silver wrapping until needed), Starship Crikey, Klingon garbage scow, a medical shuttle crusher and the I.S.S. Bucket. Among the refuse used: beer bottles, garbage bags, plates, poster tubes and rolled Post-its.
The full title of this panel really tells the whole story: The Ship-wide Search for Spock Cryptic Clue Hunt with Robb Pearlman. Eight Spocks were hidden around the ship, with dozens of intrepid fans spreading out, clues in hand, to see if they could find them all before time ran out. Logically, a good time was had by all.
Klingon Pub Krawl
The Klingon Karnivoria, quite appropriately, served as the starting point for the loud, raucous, ridiculously fun Pub Krawl led by Robert O'Reilly in full Gowron regalia. The sold-out event was jam-packed with fans klamoring to follow in Chancellor Gowron's footsteps. Qapla'!
Oh My!!!
Fans glimpsed two empty chairs positioned by the Borg Cube screen. Who'd been joining Takei for his talk? It turned out to be Brad Takei, and the two interacted like, well, an old married couple.
Takei recalled his first conversation with Gene Roddenberry. The Trek creator called him Tuh-Kai rather than Tuh-Kay. The word Takai, he told Roddenberry, meant "expensive." Takei revealed that Roddenberry said, "I never want to call actors expensive...,' and he never called me Tuh-Kai again."
Code of Honor
Denise Crosby and Michael Dorn teamed up to screen "Code of Honor," widely considered the worst-ever episode of TNG. Dorn came out first. After noting he was not in the episode and hadn't seen it in 30 years, he said, "There is, in every series, in a long running series, an episode that stands out. Usually it's the best episode. I'll say this is the most-interesting Star Trek ever... for a myriad of reasons. What's also interesting is we have the actor who figured prominently in it..." And with that, Denise Crosby took the stage.
For the next hour, Crosby and Dorn stopped and started the episode, offering memories and commentary as they attempted to, as Dorn put it, "deconstruct what went into this masterpiece." Joked Crosby, "I have white wine for this. I have to be fortified." As laughable and even racist as the episode may be, Crosby and Dorn noted, the idea was reasonable, everyone's heart was in the right place, what wasn't said was more worthwhile than what was said, and the episode simply didn't work.
Gorn's Gong Show
Jeffrey Combs, Connor Trinneer and Vaughn Armstrong joined an apparently caffeinated Gorn to judge this contest, in which fans performed a variety of acts. The whole idea was to garner 10's from the judge and avoid getting gonged by the Gorn. Among those participating: a bagpipe player, a couple of keyboardists, an ex-soldier who played songs from The Wizard of Oz on his... harmonica, a 15-year-old who yo-yo-ed to the TOS theme music, a singing-dancing-rapper — and more.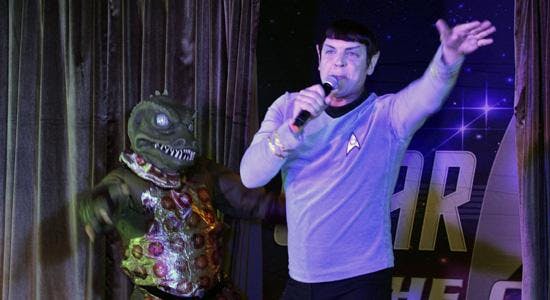 A Bones-Chillingly Good Q&A
Karl Urban, fighting off the effects of some bad food he ate just before the cruise, chatted with Ian Spelling during an entertaining, informative Q&A, the final poolside one of the cruise.
Looking back at 10 years of his crew's Trek films, he cited two things that stand out: the fans and the great people he gets to work with, with chemistry being very important. "J.J. does a good job of putting people together," he noted.
When asked about taking on the iconic McCoy role made famous by DeForest Kelley, Urban said, "It feels like putting on a big, warm jumper... When doing the first movie, the challenge was making the character identifiable. For me, it was identifying what the very essence of that character was. I've since also been able to put some of my own stamp on the character as well."
Riker's Chair Mounting Competition
This was pretty damn epic, folks. A large and enthusiastic crowd greeted Jonathan Frakes and cheered on their favorite contestants — including a nimble dancer and a woman with a full Riker beard — as they performed their best "full Riker," with Frakes sharing his own moves and judging the contestants.
Style points were a must! As the Commander himself put it, "Nowhere else in the world is anything like this happening!" And since the winner was declared with time to spare, Frakes happily answered questions from the audience for the remaining time.
Wine Tasting
Packing the Grand Pacific dining room, a crowd of wine enthusiasts listened — and tasted! — as Biggs explained different varietals and offered a technique for enhancing the experience of wine: BLIC, an acronym for Balance, Length, Intensity, Complexity. For the record, Biggs himself is a winemaker and notable as the Paso Wine Guy online.
The Future of Human Space Exploration
Using current examples such as Elon Musk's SpaceX and Jeff Bezos' Blue Origin projects, former NASA astronaut Rick Searfoss offered some vision into the near future, as we are beginning the transition to long-duration space flight. Most practical ideas, he noted, "will come from public and private partnerships."
The Women's View
Talk about a provocative hour. Denise Crosby led a conversation with Nana Visitor, Kitty Swink, Lolita Fatjo and Marnie Mosiman, and it was an open, meaningful conversation with members of the audience, including a few guys, about the position and role of women in our society and how we can all strive to live the dream of Star Trek... free of gender and racial prejudices and inequality.
BFF
Robert Picardo seemed to take extra-special delight in sharing the stage with his old pal and very talented musician, Jordan Bennett.
Together, they presented a lighthearted musical comedy revue that celebrated their 40 years of friendship and kept the audience tapping their feet and laughing.
Last Call
Star Trek's current Dr. McCoy settled into a chair on the stage of the Stardust Theater and, for a full hour, answered fan questions. He was funny, detailed and charming as he talked about Trek, Dredd, working with Al Pacino in Hangman, The Lord of the Rings and much more.
Drink of the Day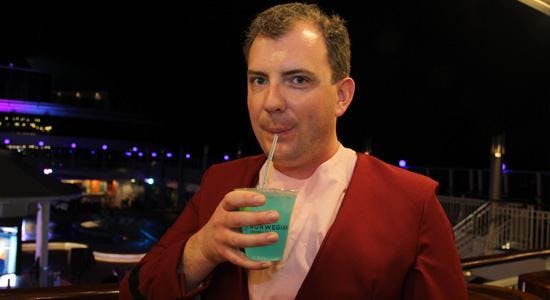 Many a fan made one last toast with their drink of the day in hand, and that colorful drink was the brilliantly named, James Tea Kirk. The ship's bartenders brought it to life using Bacardi Superior Rum, gin, vodka, blue curaco and lemon-lime soda.
The Voyage Home
As the day wrapped, fans showed off their final costumes. Here are a few: