Sandra Piller Pays Tribute To Her Late Husband, Michael Piller
Sandra Piller Pays Tribute To Her Late Husband, Michael Piller
---
By Sandra Piller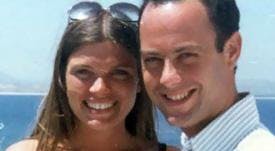 Michael Piller's legacies as a husband and father, a writer and producer, and as a hugely influential figure in the Star Trek franchise live on, long after he succumbed to cancer in 2005. He wrote and/or produced Star Trek: The Next Generation, Star Trek: Deep Space Nine (which he co-created), Star Trek: Voyager (which he co-created) and Star Trek: Insurrection. Today would have been Piller's 66th birthday, and to help celebrate it, we invited Piller's wife, Sandra Piller, to share some memories of her husband, his Trek work and more – in her own words. She came back to us with a heartfelt tribute that we hope all StarTrek.com readers will take a few moments to read and savor:
As I sit here resting this Memorial Weekend, following two weeks of helping friends move, I find nothing on TV… nothing but The Next Generation episode ("Realm of Fear") with Barclay, who was infected while transporting. And suddenly nothing was something special.
I think Michael first piqued our son Shawn's interest in the biz when Michael was a program executive at CBS. One of his shows was The Dukes of Hazzard. Shawn was a big Daisy Duke fan – what little boy wasn't? Shawn, about 10 at the time, was having trouble reading. So, Michael brought home scripts for us to all read together. We'd each take a character or two and go through the whole show together. That made reading fun and was a great help to Shawn. Michael also took Shawn to the set one day, and Shawn was blown away by the fake rocks and all the behind-the-scene stuff. It did take away some of the magic, but it also opened up Shawn's mind to new possibilities.
We were then, and still are a TV-watching family and we watched all of Michael's shows -- usually while eating dinner in front of the TV. After his days as a CBS exec, Michael worked as a writer and producer, and his shows included Simon & Simon, Probe, Hard Time on Planet Earth and the Star Trek series. Shawn got to see and hear firsthand what works in a script and what doesn't, and there's no doubt in my mind that he had all of that in mind when he started his own career as a writer and producer. I know, for me, finding an old show of Michael's on TV is like going back in time and being there again. It just feels like going home again.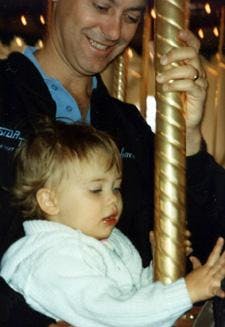 StarTrek.com asked me to share a few stories about Michael to celebrate his birthday – he would have been 66 today – but it's also almost Father's Day and I wanted to touch on that, too. Many people involved with Star Trek have said that Michael was the father figure of the writers and Jeri Taylor the mother. It does become a family. Back at home, I was amazed at how patient he was. I didn't have a strong, consistent, positive male figure growing up and I marveled at how he kept his cool with these two kids he inherited when he married me. Christy was 12 and Shawn was eight then. He was always constructive and encouraging. Yes, we disciplined, but tried to make the punishment fit the crime. Being the stepfather had its challenges and rewards, but it must have been a good experience because Michael decided he also wanted his own children with me. So, after eight years of marriage, we had our daughter, Brent.
Family was what it was all about for Michael. He was amazed at how he could see his grandmother's face or other relatives in Brent's little baby face. He felt a closeness and responsibility to/for his family like never before. He was proud of his children and felt he had made his mark in this life and left it better than when he got here. He has made a difference in the lives of many, for the good. What else could you ask for? He loved and was loved – and is still loved.
Michael is always with us. Frank Sinatra was his favorite singer, and so, when I hear Sinatra, there he is. When I watch a Star Trek episode, he's there, too. And baseball. And college basketball. And the Lakers. And with our daughter, Brent – who is NOT named after Brent Spiner; Brent was actually Michael's middle name -- we also watched the Sparks.
But back to baseball. DS9's Captain Sisko was also a huge baseball nut/fan. Michael absolutely wanted Sisko to be a baseball fan. Michael collected baseball cards. He had many in his office at Paramount and there was a baseball on Sisko's desk on the space station. Michael's mom, Ruth Roberts, wrote (usually with her writing partner, William Katz) several sports-themed songs, including "Meet the Mets" (for the New York Mets) "It's a Beautiful Day for a Ball Game" (used by the Los Angeles Dodgers for decades) and "Mr. Touchdown, USA."
Music is a huge part of my life these days, and it's intersected with Star Trek in ways I never imagined. I've recorded several albums and I actually released an EP called "Love Goes On" at a Star Trek convention I attended in Nashville a couple of years ago. The EP is dedicated to Michael and the video for the song "Love Goes On" has picture after picture of us.
My writing partner, Jane Bach, and I got to perform on the convention stage in Nashville a few songs from it and some of her hit songs, too. It was great. It was a bit overwhelming for me, as it was the first time in years I'd gone to a convention, but it also felt like coming home -- something I didn't expect. And to hear from so many fans how much Michael had influenced their lives... It was amazing. I had no idea how popular he was or that some people felt he "saved the franchise."
Michael was amazed at how serious the fans are about Star Trek. We would remember William Shatner on Saturday Night Live, when he told them to "get a life." But as we got more involved, we appreciated how much people are connected to the Star Trek philosophy.
So Michael is always with us and, in a way, as Trekkers/fans, I'm sure you feel and hear him, too.
Sandra Piller