Preview: Star Trek Mission New York
Preview: Star Trek Mission New York
---
By StarTrek.com Staff
Are you ready? Star Trek: Mission New York, the three-day event, presented by ReedPop, will get underway on Friday and run through Sunday at the Javits Center in New York City. Mission New York will be the world's biggest Star Trek 50th anniversary celebration and the most experiential one as well, with panels, screenings, live podcasts, improv shows, a script reading, auctions, Trek Talks, gaming, autographs and photo opportunities, all of which will span across four stages and multiple rooms. Below, we've provided just a fraction of the schedule. And, for those who can't be there in person, StarTrek.com will have you covered, as we will be out in force, reporting back with full recaps each day, and also taking to social media via Instagram and Twitter to provide updates as the activities occur.
Meet the Stars
The talent you grew up with and love, spanning from The Original Series to Enterprise and from the J.J. Abrams movies to the upcoming Star Trek: Discovery, will be on hand for Mission New York. They'll all be on stage for talks, and also available for autographs and photo opportunities.
Among the talk highlights, there will be reunions featuring members of The Next Generation, Deep Space Nine, Voyager and Enterprise casts. And, one of the most-anticipated panels will feature writer-producers Kirsten Beyer and Nicholas Meyer, who will sit for a moderated Q&A during which they'll discuss their history with the Trek franchise and how it has led them to become involved in the new iteration, Discovery.
See World Premieres
Mission New York will proudly serve as the home to several world premieres:
Put your hands together and cover your ears -- those Ceti eels get around -- for the exclusive world premiere of Star Trek II: The Wrath of Khan in 4K. Writer-director Nicholas Meyer will be joined by MTV's Josh Horowitz for a special Q&A about the making of this 1982 sci-fi masterpiece.
The Smithsonian Channel's documentary Building Star Trek features a star-studded lineup of astronauts, engineers, writers, innovators and Trek actors who'll celebrate to the 50th anniversary of the show that inspired the space age.
Some of your favorite actors from film and television, including The Man in the High Castle's Arnold Chun as Spock, Anna George (New Girl) as Uhura, John Harlan Kim (The Librarians) as Sulu, Nadia Dajani (Elementary) as Gillian Taylor, Katarina Mohracova (The Knick) as Chekov and Robert Clohessy (Blue Bloods) as the Klingon Ambassador, will perform a never-to-repeated staged reading of Star Trek IV: The Voyage Home in honor of its 30th anniversary. As for who will portray Captain Kirk, you'll have to join the fun to find out.
Play the Games
If you're a gamer and a Star Trek fan, you'll be in luck at MNY, as they'll have an entire pavilion, The Gaming Zone, teeming with the newest and most-immersive of Trek games. You can test drive the games, compete against fans and get a behind-the-scenes view at panels featuring the teams behind Star Trek: Bridge Crew, Star Trek Online and Star Trek Timelines.
Join the development team behind Star Trek: Bridge Crew, a brand-new Virtual Reality game from Ubisoft, that allows players to be part of a Starfleet crew and work together on the bridge of a ship. Learn more about how this game came to life, get a B-T-S look at when some famous alumni got to play for the first time, and learn more about Trek's newest ship, the U.S.S. Aegis.
Get an exclusive, B-T-S look at development for Star Trek Online, the only massively multiplayer online role-playing game that lets you captain your own starship and explore Trek universe-expanding content. Game designers and producers will reveal the development process bringing the game to Xbox One and PlayStation4.
John de Lancie, known to Trek fans as Q, will join the Disruptor Beam development team for a session about the mobile game Star Trek Timelines. Whether you've been playing every day since the game launched in January, have played just a little or not at all, come to this session to learn more about the process of developing a Trek mobile game and what the Disruptor Beam team has planned for Timelines.
Join the Debate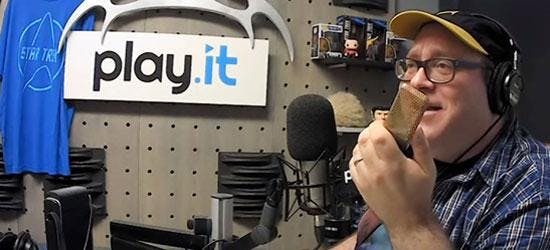 Jordan Hoffman, StarTrek.com columnist and host of Engage: The Official Star Trek Podcast, brings his popular fan panel One Trek Mind Live to Mission New York, and you better get your deflector shields up. With the help of the audience, One Trek Mind Live will determine Star Trek's 50th Anniversary All-Star Crew. Argue like Andorians and Tellarites at this upbeat, rowdy panel.
Visit The Original Series Set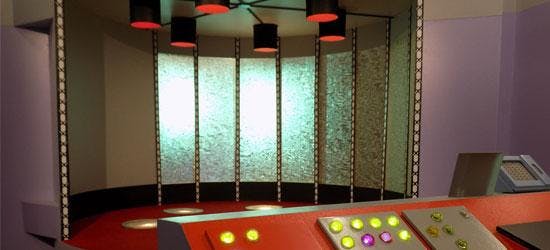 Experience Trek like never before, as super-fan James Cawley and his team at Trekonderoga bring pieces of their Original Series Set Tour and props to MNY. Step aboard a piece of Bridge of the USS Enterprise, or beam down to an alien world by using the transporter console. And check out all the Trek props, too.
Meet the Artists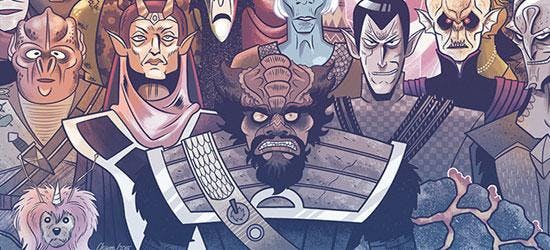 Artists featured in the Star Trek: 50 Artists. 50 Years. exhibition will be signing prints all weekend at The Paley Center for Media booth on the show floor.
Here is the schedule:
Friday, September 2nd
12:00 - 3:00 Glen Brogan12:00 - 3:00 Erin Gallagher3:00 - 5:00 Derek Charm3:00 - 7:00 Ulises Farinas
Saturday, September 3rd
12:00 - 3:00 Erin Gallagher1:00 - 3:00 Derek Charm3:00 - 7:00 Glen Brogan3:00 - 7:00 Ulises Farinas
Sunday, September 4th
11:00 - 2:00 Erin Gallagher12:00 - 2:00 Derek Charm1:00 - 3:00 Glen Brogan
Turn the Page
Many popular Trek authors and editors will make the trek to MNY in order to interact with fans. They'll also participate in a wide variety of panels spread across the weekend. Be sure to check out:
Star Trek novelists and editors take fans inside the books. How did the Star Trek tie-in novels get started? How has that program evolved over time? What are some of its milestones? What is its current state? And how is the Pocket program observing Trek's 50th anniversary?
Join IDW Publishing's Editor in Chief Chris Ryall, Group Editor Sarah Gaydos, Trek comics scribe Mike Johnson, and special guest, superstar artist John Byrne, as they discuss the world of Trek comics, with a focus on Byrne's incredible contributions, and the Trek comics coming from IDW. Also be on the lookout for surprise guests, a major announcement, giveaways and more.
The rich, diverse world of Trek is so vast that writers have spent decades trying to find the best way to easily explain it to fans. Now, join three authors who've done just that: Andrew Fazekas, author of Star Trek: The Official Guide to Our Universe, Paul Ruditis, writer of The Star Trek Book and Star Trek Visual Dictionary, and Richard Michelson, writer of Fascinating: The Life of Leonard Nimoy, as they explore their research into Trek and the processes for writing their books. Moderated by Derek Tyler, a fellow writer and a winner of the Strange New Worlds contest.
Join the Conversation
Fans who wish to dig deep into Star Trek and learn more about the venerable franchise's profound influence on society, science and pop culture can participate in an array of Trek Talks that promise to be informative, thought-provoking, educational and even touching. Topics explore the role of literature in Star Trek to space exploration, technology and more.
NASA will be front and center for several Trek Talks, including on that will detail how NASA is turning science fiction into reality. Robert Picardo moderates this discussion that will be accompanied by special video content featuring both NASA and Star Trek talent.
Get Exclusives
Looking for show exclusives? There will be plenty on the show floor.
If you want to show the world that you're at Mission New York, you can do so with the variety of MNY-exclusive merchandise that will be available at the show store.
FanSets offers its new collection of Star Trek pins and pin sets including an exclusive MNY pin.
Icon Heroes will beam into Mission New York with a limited edition NCC-1701 Saucer Mouse Pad.
Eaglemoss will offer a selection of products from Star Trek: The Official Starships Collection as part of a Buy 3, Get 1 Free promotion. The items will include regular issues, specials, plaques, shuttles, brand-new collector's binders, and the limited-availability Mirror Universe variant of the U.S.S. Enterprise NCC-1701.
Hallmark will arrive at Mission New York with a show-exclusive ship, U.S.S. Enterprise.
Titan Magazines will commemorate Star Trek's 50th anniversary with an exclusive cover at Mission New York and the book Star Trek BeyondCollector's Edition. Fans can subscribe to Star Trek Magazine and receive a free exclusive Kirk Titans figure from Where No Man Has Gone Before.
And So Much More
The United States Postal Service will introduce a new Trek-inspired stamp series to celebrate the show's 50th anniversary. The stamps will be officially released at an exclusive First Day of Issue Ceremony at MNY. Guests will include Walter Koenig and the Postmaster General. Post-ceremony, head to the USPS Cancellation Station on the Show Floor to get your commemorative cancelation stamp.
Roger Lay, Jr., Rod Roddenberry and others will reveal never-seen-before clips and photos from some of the most-famous TOS episodes during this exclusive preview of upcoming Blu-ray releases celebrating 50 years of Trek. The panel will offer fans will get a peek at some of the new content created to celebrate this milestone, including never-before-seen TOS footage from the cutting room floor that will appear in the release of Star Trek: The Roddenberry Vault.
Learn the inside story of The Wand Company, from how it took on the challenges, overcame various development hurdles and created the mechanical design necessary to successfully bring the Star Trek: The Original Series Communicator, science fiction's most iconic prop, to life – 50 years after the hero prop was built and issued to the Enterprise crew.
Get a B-T-S look at Eaglemoss's award-winning Star Trek Starships Collection. This series reproduces all manner of ships from each of the series and every movie in painstaking detail. In conversation with Matt Singer, EIC of ScreenCrush.com, Eaglemoss's own Trek expert, Ben Robinson, will reveal how ships are selected and crafted from original blueprints, photos and production notes. He will also discuss upcoming products and finish with a Q&A.
Keep an eye on StarTrek.com for ongoing coverage. And also be sure to visit www.StarTrekMissions.com for the full schedule, tickets and booth numbers, as well as the Star Trek: Mission New York social media pages (Facebook, Twitter and Instagram).