New Original Series Art Prints Debut
New Original Series Art Prints Debut
---
By StarTrek.com Staff
It's a new month and that means a fresh quartet of Star Trek: The Original Series Art Prints by Juan Ortiz. This month's set – available now -- consists of "The Menagerie, Part 2," Space Seed," "The Empath" and "All Our Yesterdays." StarTrek.com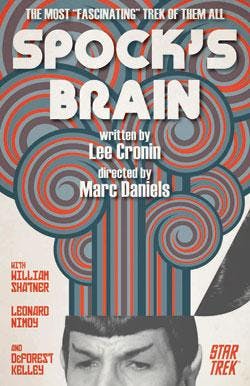 separate episodes, I decided that it was necessary. I'm glad that I did, too, because it gave me a chance to work on the othe most response, and what kind of reactions did you get to it?ORTIZ: "Spock's Brain" appeared to be the favorite, although most folks preferred to chat about how awful the episode was. I learned that even Leonard Nimoy had some issues with it.We should probably ask you about The Art of Juan Ortiz. How exciting is it for you to see all the TOS Art Prints together in one place? And what do you feel being able to experience it all in one place vs. one at a time adds to the experience of enjoying the posters? Perhaps people can find common themes?ORTIZ: It feels a bit surreal. I haven't seen the book yet, so I'm not really certain how I would react, but if Titan is happy with it, then I'm sure I will be also. I trust them. I am happy that it's almost here, though. The release of all the posters until 2014 has been a bit of a wait. I think that the wait is always the worst part.I will add that when I search for Star Trek posters on the Internet, I see a lot of diversity and storytelling in the designs. There have been some nice gallery showings also, both here and abroad. I've been admiring Matt Ferguson's work these last few weeks. Marie Bergeron's "Into Darkness" image is amazing. Dan Bob Thompson, Sub Level Studios and a host of others are doing some nice work. Star Trek is a big universe, so it's nice to know that I'm not alone in my efforts, and I enjoy seeing all of the different takes on the same subject. I can't wait to see someone else's take on TOS or the Next Generation. And then there are the wine bottle labels for Votto Vines. When you started the process of doing the TOS Art Prints, did you ever imagine that three of your TOS Art Prints would end up on wine bottles? And, be honest, how many cases are you ordering for family and friends?ORTIZ: No, I never saw that one coming. I may buy one or two for some close friends. Maybe the non-Trek fans that wouldn't normally buy something like that. I stumbled across a set of exclusive coasters, too.OK, up first among this month's TOS Art Prints is "The Menagerie, Part II." What inspired this particular print?ORTIZ: "The Menagerie, Part I" did. I almost didn't do a part two. Instead, I almost created one poster for both episodes. But since they are two separate episodes, I decided that it was necessary. I'm glad that I did, too, because it gave me a chance to work on the old phaser or laser pistol.
Is it just us, or is the phaser particularly large and detailed?ORTIZ: I drew over an actual phaser image, so the hand is in scale to the handle. I did stylize the whole piece including the phaser; that may be why it looks larger. The "Space Seed" print is particularly creepy. What were you aiming for with this one?ORTIZ: The hand represents Khan. The skull represents evil. The poster is sliced in half so that the hand would read as growing out of the bottom half, like an evil vine of some type reaching out.
We love the malevolent hand. Was that at all an homage to Chiller Theater?ORTIZ: I wasn't conscious of it, but I can see the similarity. The poster was inspired by the work of Saul Bass. Particularly his poster for The Man with The Golden Arm.Our favorite this month is "The Empath." You evoke tremendous emotion with just a few simple touches: the eyes, the Enterprise as a tear, the mouth and the angle of the face. Give us a sense of how the idea for this one evolved.ORTIZ: Gem was like a character out of an old silent movie, so for dramatic effect, I zoomed in for a close-up. The simple style that I used was inspired by 50's designer Joaquin Pertierra. Like Saul Bass, Joaquin was a genius at saying a lot with so little. The Enterprise for a tear was an afterthought, an idea that I think has since been done by another artist.
How many passes did this one take until you felt you'd nailed it?ORTIZ: Not many. Once the layout was sketched out, it was a quick one to create. I went with a paperback feel to it as well.Lastly, there's "All Our Yesterdays." What made you choose to use an image of Spock attacking McCoy?ORTIZ: I think there's some good acting in that scene, and one of the most memorable scenes from the series. It's also a good grab for anyone that has never seen the episode.
The creature above the title interested us. What does that represent? Zarabeth?ORTIZ: The creature is actually Zarabeth, as we see her for the first time, wearing her fur coat. I remember seeing Zarabeth in her coat and not knowing who or what she was at first. I felt that would be a good image to entice the viewer with.Last question: Of the four prints, which would you mostly put on your own wall... and why?ORTIZ: I think "The Menagerie, Part 2" would be a good one to pair with "Part 1"… if I had the wall space.
____________________________________________________________________
The StarTrek.com Shop is offering the four prints as a set of plated-printed lithographs on 100-pound, aqueous-coated, satin-finish paper. Each print measures 18x24 inches and the set of four is $34.95.  US and Canada fans can purchase the sets below.
Pyramid will have the images available in the UK on Wood for £39.99 (43x59cm) and £49.99 (45x76cm), Canvas for £59.99 (60x80cm) and as Framed Art Prints at £49.99 (60x80cm).  UK fans will be able to purchase the items at Amazon.co.uk, ForbiddenPlanet.co.uk and Oneposter.co.uk.
The next four images will be revealed in early June here on StarTrek.com.