Michael Giacchino Talks Star Trek: Live in Concert
Michael Giacchino Talks Star Trek: Live in Concert
---
By StarTrek.com Staff
Michael Giacchino's music for Star Trek (2009) and Star Trek Into Darkness will come to life as part of Star Trek: Live in Concert, as screenings of the films will be accompanied by live symphony orchestra performances of Giacchino's scores. May 24 will mark the launch of the Star Trek: Live in Concert tour, which will start in Switzerland and then touch down in the U.K., with showings/performances at the Royal Albert Hall in London, before wending its way to U.S. in July for evenings in Houston and San Diego. Giacchino himself will attend several of the concerts, squeezing in appearances while completing the scores for two big summer films, Dawn of the Planet of the Apes and Jupiter Ascending. The composer also found a few minutes to conduct an email interview with StarTrek.com, responding to questions both from us and from fans who posted queries on the StarTrek.com Facebook page. Here's what he had to say: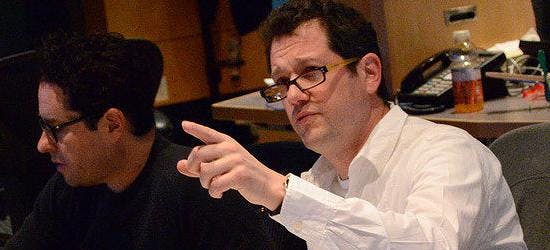 How excited are you about your Star Trek (2009) and Star Trek Into Darkness scores being performed live to complement screenings of the films?
GIACCHINO: I am very excited for the people who have the opportunity to attend these concerts. As a composer, I am fortunate to have the opportunity to regularly hear incredibly talented musicians playing soundtracks live on a scoring stage. These screenings, however, will give the audience an opportunity to experience both the musicians and the music and the movie in a way that they can't at home in their living rooms.
What do you think hearing the scores live adds to the experience for a moviegoer -- or is it the other way around: What does hearing the score live and seeing the movie add to the experience for a concertgoer?
GIACCHINO: I think it is a dual experience. I imagine that there are people that will find themselves enthralled with the film, and then realize that there are 90 musicians out there on stage, or there are those whose focus will be on the music. Either way, we are hoping that watching the film with a live orchestra will only enhance the emotionality and excitement of both film and music.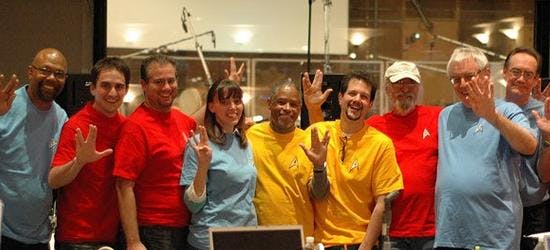 Will you be on hand for any of the international movie/performance events?
GIACCHINO: Yes, I will be in Lucerne and London.
And what does it mean to you to hear your score performed live at a venue as hallowed and revered as the Royal Albert Hall?
GIACCHINO: To have the honor of experiencing my own music in the legendary Royal Albert Hall in London is truly humbling.
What was the first instrument you played?
GIACCHINO: Harmonica and piano.
As a kid growing up and, later, as a composer in your own right, what did you enjoy most about the scores created for the Star Trek shows and movies by Alexander Courage, Jerry Goldsmith, Cliff Eidelman, Dennis McCarthy, Ron Jones, etc.?
GIACCHINO: I was a fan of The Original Seriesand then the first few Star Trek films. Those were the scores that resonated most with me. By the time the newer series came out I was in college with very little time to watch TV. So my Star Trek lies in the hands of people like Alexander Courage, Gerald Fried, Jerry Goldsmith and James Horner.
People inevitably compare your work to that of the composers who preceded you. How aware are you of people making such comparisons and how comfortable are you with that happening
GIACCHINO: I believe they are all very different. People are free, however, to do and say as they wish. My only concern is with the Star Trek universe that I was lucky enough to be a part of.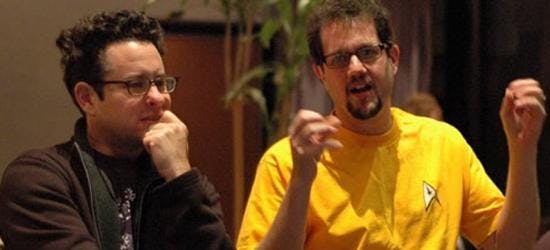 Obviously, it is a challenge to follow such great composers of Trek in the past. When you chose to take on Trek, did you give the old tracks a listen first or just go with your own ideas out of the gate? I am just curious to hear your "process." If you did listen to any of the older works, are there any particular tracks which really stood out to you, and if so, which ones?
GIACCHINO: I didn't go back to listen to anything from the previous incarnations, really, as my job is to serve the narrative of the film at hand, making sure all of its emotional needs are met. There are a few small references to themes that I loved from The Original Series, however. You'll have to seek those out yourself.
What inspired you to use an Erhu in the piece where Spock shows his emotions during the first Star Trek film?
GIACCHINO: I wanted to show that Spock was caught between two worlds. To do this, I needed something that would represent his Vulcan heritage amidst a traditional western orchestral sound, which represented his place within Starfleet. I felt that the Erhu was the perfect instrument to demonstrate that -- a  sound that is less familiar to western orchestras, with a beautiful voice that felt far away and nostalgic.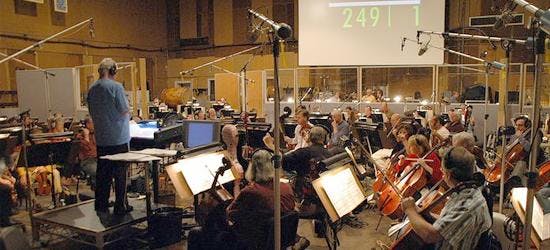 As someone majoring in music composition, with dreams to be a film composer, what advice can you offer?
GIACCHINO: Go to the film department and get to know aspiring filmmakers, and work on their projects. Forming relationships is key to working as a film composer.
Start to finish, how long does a score usually take you to do?
GIACCHINO: It's always different, but 6 to 8 weeks is about average.
What else are you working on at the moment? And what do you have lined up?
GIACCHINO: I am currently finishing up Dawn of the Planet of the Apes, directed by Matt Reeves. When I get back from London, I will start working on Tomorrowland, directed by Brad Bird. This summer, both Apes and Jupiter Ascending, by the Wachowskis, will be released. Come September, you will find This Is Where I Leave You, directed by Shawn Levy in theaters… and then I will tackle some dinosaur music for Jurassic World, directed by Colin Trevorrow.
Keep an eye on StarTrek.com for news about Star Trek: Live in Concert performances in additional cities and countries. And visit StarTrekConcerts.com for ticket information and the latest tour schedule.