Koenig and Postmaster General Unveil Trek Stamps at Mission NY
Koenig and Postmaster General Unveil Trek Stamps at Mission NY
---
By StarTrek.com Staff
The United States Postal Service officially unveiled its new Star Trek-inspired stamp series at Star Trek: Mission New York, during an exclusive First Day of Issue Ceremony today that featured appearances by Walter Koenig, Trek's original Chekov, and Megan J. Brennan, the 74th and first female postmaster General of the United States.
Following the Presentation of Colors, Brennan spoke to the assembled SRO audience. She called Trek a show that "pierced the cultural veil" and noted the decades-long connection between Trek and the USPS, particularly the letter writing campaigns that saved TOS. And, she commented, "Let me say a letter-writing campaign is still an effective way to effect change." The crowd applauded enthusiastically when Brennan closed out by explaining, "The stamp says Forever. Star Trek epitomizes the best of America. And it will do so forever."
Others to speak included Dr. Michelle Fowler of NASA and Liz Kalodner of CBS Consumer Products.
Next, Walter Koenig, Trek's original Chekov, addressed the room. "I'm so old I remember when you had to use your tongue to mail a letter," he said. And he added, "I've always liked seeing the word 'Forever' on a stamp. It says to me we'll still be around, and for a long, long time."
Koenig concluded his comments by saying, "Let these young folks call it snail mail. To me, (stamps/letters) are a way to contact the rest of the world."
Throughout the day, fans beamed over to the USPS Cancellation Station on the MNY show floor to receive their commemorative cancelation stamp.
The colorful stamps -- which are digital illustrations -- depict the Starship Enterprise inside the outline of a Starfleet insignia against a gold background, the silhouette of a crewman in a transporter against a red background, the silouette of the Enterprise from above against a green background and the Enterprise inside the outline of the Vulcan salute against a blue background.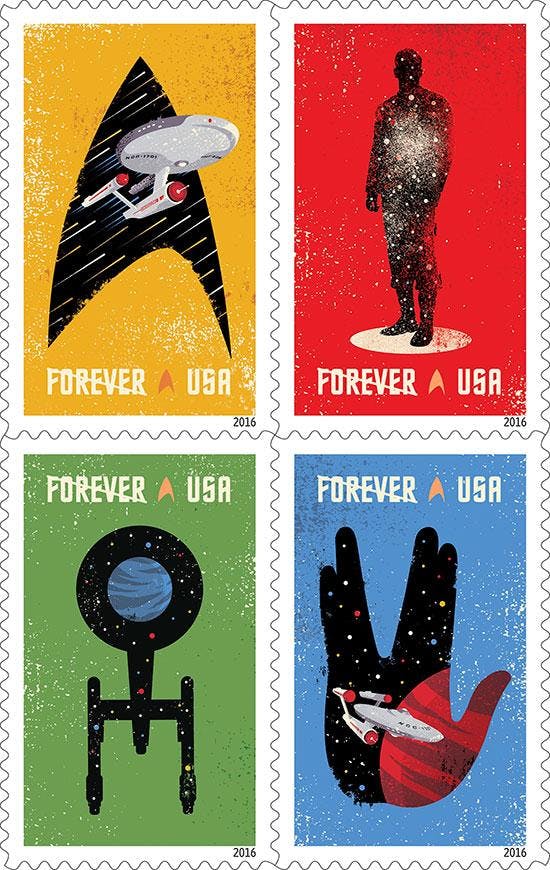 They were created by Jason Kernevich and Dustin Summers, collectively known as The Heads of State. They've worked together for more than 10 years and, as co-creative directors, they've created award-winning posters, book covers, branding and illustrations for a diverse and impressive list of clients, including The New York Times, Nike, New Balance, Wired, The Pennsylvania Academy of Fine Arts, and musicians Iron & Wine, The Decembrists and Wilco.
Describing the creation of the Star Trek stamps, they explained, "Our process was to create imagery that speaks to the iconic quality of the Star Trek series and its vast visual language as well as alludes to the aesthetic of 1960s science fiction."
Go to USPS Store to order the Star Trek Forever stamps.