It REALLY Is Shatner's World...
It REALLY Is Shatner's World...
---
By StarTrek.com Staff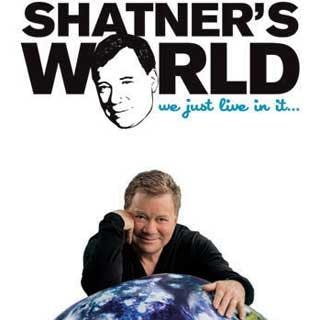 William Shatner wasn't messing around when he dubbed his one-man show Shatner's World… We're Just Living In It. That, fans, really is the case. Seemingly capable of being in three places at once and doing six things at the same time, Shatner just won't slow down. Hell, we're getting carpal tunnel syndrome just tapping out this roundup of his current and upcoming projects, but, hey, as a wise Vulcan once pointed out, the needs of the many outweigh the needs of the few, or the one.
For starters, Shatner and his wife Elizabeth made a quick visit to the Frazier History Museum in Louisville, Kentucky, on Tuesday to donate a bronze sculpture, created by noted Kentucky artist Douwe Blumberg, of a samurai warrior riding a horse. "A sculpture is almost forever," Shatner said during a press conference at the museum, which is presenting a 3,800-square-foot "Samurai" exhibition. "It will last far longer than any of us. I am very proud to donate this."
The very next day, May 25, Shatner will appear as a guest presenter on the BBC One topical news-quiz program I Got News For You, joining fellow guest panelists Andy Hamilton and Charlie Brooker. "English sense of humor is different from American sense of humor," Shatner said in a statement released by BBC One. "Luckily, I'm Canadian."
Later this summer, Shatner will reunite with EPIX, which aired his documentary The Captains, for William Shatner's Get a Life! Based on Shatner's infamous book of the same name, Get a Life, according to EPIX, "examines the mystery, longevity and the cultural phenomena of Star Trek and its long-obsessed fans known as Trekkers," ultimately delivering "a fun and touching side of the fanfare surrounding Star Trek." In the process, Shatner "further embraces his role as Captain James T. Kirk and his own impact." William Shatner's Get a Life! will premiere in July.
And, coming full circle – for now, at least – Shatner will be back with more Shatner's World. While he's not yet updated his official site or the Shatner's World site with a full slate of venues and dates, the New Jersey Performing Arts Center just announced that Shatner will perform his one-man hit there on Sunday, February 10, 2013. In perhaps the understatement of the year, David Rodriguez, NJPAC's vice president and executive producer said, "A program that has Yo-Yo Ma, George Clinton and William Shatner truly has something for everyone."