INTERVIEW: DS9 & Voyager Guest Star, Deborah May
INTERVIEW: DS9 & Voyager Guest Star, Deborah May
---
By StarTrek.com Staff
Deborah May's acting credits span from The Streets of San Francisco, St. Elsewhere and Seinfeld (the "Puffy Shirt" episode) to The Larry Sanders Show, ER and The Last Ship, and she made her mark on Star Trek by guest starring on Deep Space Nine and Voyager as two very different but exceptionally strong female characters. In the second-season Deep Space Nine hour "Sanctuary," May played Haneek, who ended up aboard DS9 while trying to lead her small contingent of fellow Skrreeans in search of Kentanna. As Haneek, May uttered this memorable line: "Men are far too emotional to be leaders. They're constantly fighting amongst themselves. It's their favorite thing to do." More than three years later, May returned to the Paramount lot to guest star as Lyris in the third-season Voyager installment, "Favorite Son." Lyris, a leader on the planet Taresia, convinced Harry Kim that he was Taresian and almost lured him to his death on the almost entirely female planet. StarTrek.com recently caught up with May, who filled us in on her current projects – which include a recent recurring role on The Walking Dead – and looked back at her Trek experiences. Here's what she had to say:
What are you working at the moment?
I am not working on anything at present. I have the luxury, at this time in my career, to "cherry pick," so to speak, and go in on submissions that interest me.  I would like to get back to the stage, if I can, at some point. It is, after all, where I began.
You were on The Walking Dead earlier this year. How did you enjoy that experience? And what's your interaction been like so far with that show's fandom?
I have enjoyed the experience very much. I liked my character and her strengths, inner and outer. The regular cast is a delight to be with, kind and open and helpful. As to fandom, I have received some fan mail; amazing as it would seem. Interestingly enough, much of what I get, comes from Poland, Germany and Sweden.
Go back to DS9. How did you land your role as Haneek in "Sanctuary"?
My role on DS9 was achieved the old-fashioned way. I auditioned and got it! I especially liked that this character. Haneek was a laboring farmer. She was strong, resolute, not sentimental in any way. She established her position among her people by being all those things. Hers was a great narrative.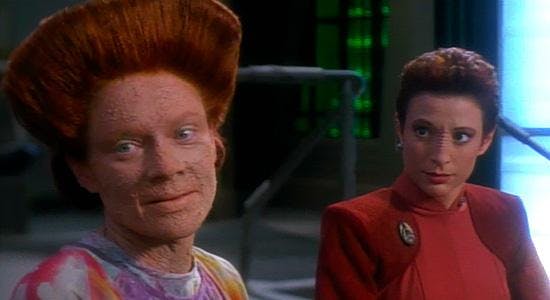 Haneek was so striking, from the skin tone to the hair and costume. What do you recall of achieving her look?
The look of the hair and skin was most interestingly achieved. If memory serves, I was in makeup for over two hours every morning. Three wigs and layers of latex and gravel and cardboard, I think, created that shedding quality. Removing it was no easy or short process. One had to stand in the shower for at least 15 minutes until a "bubble" of water formed under the makeup. Then, it was slowly peeled away from forehead to neck. Not fun for those subject to feeling claustrophobia.
How did you enjoy working with Nana Visitor and the DS9 regulars?
I loved working with all the actors, but especially with Nana. She's a superb actress, bright and witty. Fun to work with.
You returned to the lot a few years later to play Lyris in the Voyager episode, "Favorite Son." How did the opportunity come along? Was it an offer? Did the show's casting director, Junie Lowry-Johnson, remember you from DS9?
I had to audition. Junie did remember me, as our paths have crossed many times. She's a great gal and so good at what she does.
Lyris was another very strong female. What intrigued you most about her as a character?
Lyris suited me well, I thought, given her strong stature and personality. Gentle but firm is how she comes across, at first anyway, but pretty cutthroat and diabolical as the hour progresses.
What was your experience working with Garrett Wang?
I enjoyed working with Garrett. He's a very talented and funny actor.
Which of the two episodes you appeared in do you feel worked best? And, if we could magically arrange for you to play either Haneek or Lyris again, which would be your preference — and why?
I feel the role in DS9 worked best, perhaps because I liked that storyline so much. Very credible. That's one of the reasons why I would like to play Haneek again. There is much to mine in that narrative. I wonder what happens.  I want to know, and perhaps, the viewers would as well.