Honoring DeForest Kelley on His 97th Birthday
Honoring DeForest Kelley on His 97th Birthday
---
By StarTrek.com Staff
Born on January 20, 1920, DeForest Kelley was that rarest of Hollywood rarities, a true gentleman, an old-school Southern fella who hailed from Georgia. He always insisted that anyone who met him call him "De." He treated everyone – lifelong friends and newbie Star Trek fans excited just to be in his presence – with equal grace and warmth. And more than anything in the universe, he absolutely adored his beloved Carolyn, who'd been Mrs. DeForest Kelley for nearly 55 years when Kelley passed away on June 11, 1999. She died in 2004. Oddly enough, before he landed his iconic Star Trek: The Original Series role as the cranky-but-goodhearted "country doctor," Dr. Leonard "Bones" McCoy, Kelley had spent much of his career portraying nasty, humorless, tough-as-nails villains.
Ironic, right?
It'd be way too easy to just list Kelley's credits or recount Dr. McCoy's most memorable lines or most infamous sparring matches with Spock. So we're not going to do that. If you're interested, though, we highly recommend From Sawdust to Stardust: The Biography of DeForest Kelley, Star Trek's Dr. McCoy, a comprehensive and Kelley-sanctioned biography penned by Terry Lee Rioux and released in 2005. We also suggest checking out DeForest Kelley: A Harvest of Memories, by Kristine M. Smith, a Kelley fan who became his personal assistant and, eventually, his caretaker as the actor lived out his last days. And, of course, there's a plethora of information to be found online.
Rather, for our purposes, we'll let Kelley speak for himself:
"It wouldn't have worked with me as Spock. I still remember Gene (Roddenberry) saying there were two roles in Star Trek he thought I'd be right for. One of them was (Spock) and one of them was what I called High Noon (Dr. McCoy). I thought it over and I said, "I'll take High Noon, Gene." High Noon worked out just fine for me, wouldn't you agree?" – Star Trek Monthly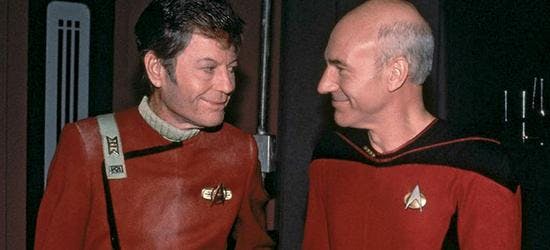 "My absolute favorite memory (of Star Trek)? I don't know. One that stands out, though, was something that happened during our third year of the series. We knew we'd be dropped at the end of the season, but we were still shooting the show. There was a television set around and we watched one of the NASA missions, maybe the one where they landed on the moon. Here we were, standing there in our far-out costumes, filming a show about the future, watching the astronauts walking around for real. That always amazes me, that memory." – Star Trek Monthly
And lastly, his New York Times obituary quoted Kelley, via an interview with journalist Ian Spelling, contemplating his legacy:
"These people are doctors now, all kinds of doctors who save lives. That's something very few people can say they've done. I'm proud to say that I have."
OK, fans.. what's your favorite Dr. McCoy moment?
Want to make a difference supporting one of DeForest and Carolyn Kelley's dearest causes? Consider making a donation to The DeForest and Carolyn Kelley Memorial Fund benefiting the North Shore Animal League.