Guide To Everything Star Trek At Comic-Con 2013
Guide To Everything Star Trek At Comic-Con 2013
---
By StarTrek.com Staff
The buzz is at a crescendo for Comic-Con International 2013, which will kick off on July 18 and run through July 21. As always, Star Trek will be well represented in San Diego by licensees who'll introduce new and upcoming products, present special guests signing autographs and give away fun freebies. Below is a breakdown of some of the must-see events and must-have products:
Anovos (Booth #4149)
Anovos will have a wide selection of high end authentic reproductions of Star Trek costumes available for purchase. Star Trek: The Original Series Seasons 1 and 3 pants ($150 each), Star Trek:The Movie pants ($150), and Star Trek Into Darkness Khan undershirts ($85) will see limited release as Comic-Con exclusives. Fans can pick up Star Trek The Original Series Kirk, Spock and Scotty Standard Tunics ($199), Star Trek: The Next Generation Picard and Data ties ($40), and a Star Trek: The Original Series Season 1 Captain's Wrap ($650, orders being taken at Comic-Con for its first run). A prototype of a Star Trek Into Darkness Khan Jacket will also be on display.
Bif Bang Pow! (Booth # 2343)
Bif Bang Pow! is launching a number of exciting items at Comic-Con. Among the special offerings is a Star Trek: The Next Generation Wesley Crusher Build-a-Bridge Deluxe Bobble Head 1 of 8. The first in the "Build-a-Bridge" series to form a mini-replica of the bridge of the U.S.S. Enterprise 1701-D.
Also, a Star Trek: The Original Series Fine Art Coasters Set of 40, Series 1, accompanied by a signing with artist Juan Ortiz on Sunday July 21st from 2 PM – 3 PM (subject to change).
In addition, a Star Trek: The Next Generation/Doctor Who limited edition tin tote set that includes an exclusive version of the Doctor Who TARDIS Monitor Mate, and  a Star Trek: The Next Generation U.S.S. Enterprise NCC-1701-D Monitor Mate (shipped later via online registration) will be available, along with signings from Star Trek/Doctor Who Assimilation 2 illustrator and writers J.K. Woodward, Scott Tipton and David Tipton Saturday July 20th from 10:30 AM – 11:30 AM (subject to change).
Likewise, collectors can pick up a one-of-a-kind Star Trek/The Twilight Zone "The Captain and The Passenger Monitor Mates" - Convention Exclusive set that includes two 4-inch scale Monitor Mate miniature bobble heads of William Shatner as seen in two of his most revered roles. Fans can also expect sneak peeks of Big Bang Pow! concepts for co-branded Star Trek: The Original Series/The Big Bang Theory action figures will be shown to fans and avid collectors.
Chronicle Books (Booth #1506)
Chronicle Books will be selling its new book, How to Speak Klingon: Essential Phrases for the Intergalactic Traveler.
Cubify (Booth #5337)
Cubify will have an on-site scanning station for fans to order their own personalized 3-D printed Star Trek figurines.
Diamond Select (Booth #2607)
Diamond Select will offer a 'fully cloaked' Klingon Bird of Prey, a variation on its most recent electronic starship, as its Comic-Con exclusive this year. The cloaked Bird of Prey is seen in numerous Star Trek films as well as The Next Generation television series.
This collectible is cast entirely in transparent plastic and has had all of its electronics removed, rendering it virtually invisible. It measures 12 inches long with a 19-inch wingspan, comes with a transparent display base as well as translucent landing gear, so you can land it in the public park of your choice. The ship is limited to only 200 pieces, and will only be available at the Diamond Select Toys booth in a window box for the price of $60.
DK Publishing (Booth #2913-G)
DK Publishing will be showcasing Star Trek: The Visual Dictionary.
Funko (Booth #5343)
Funko will be exclusively offering for sale a co-branded Star Trek/The Big Bang Theory Pop! Figure that looks as if it's "beaming up."
Hallmark (Booth #2913-H)
As a Comic-Con exclusive, Hallmark will be offering a battle-scarred variant of its U.S.S. Kelvin keepsake ornament as featured in the 2009 Star Trek movie.
Additional ornaments being offered for sale include the U.S.S. Kelvin with lights and regular paint, "Arena" episode motif featuring the fight scene between Kirk and the Gorn with sound, and "Chief Engineer Montgomery Scott" (fourth in the Star Trek legends series). Deep Roy, Keenser in the new Star Trek films, will make daily afternoon appearances in the booth to sign autographed pictures for purchase. Hallmark will also be offering sneak peeks of its 2014 ornament line.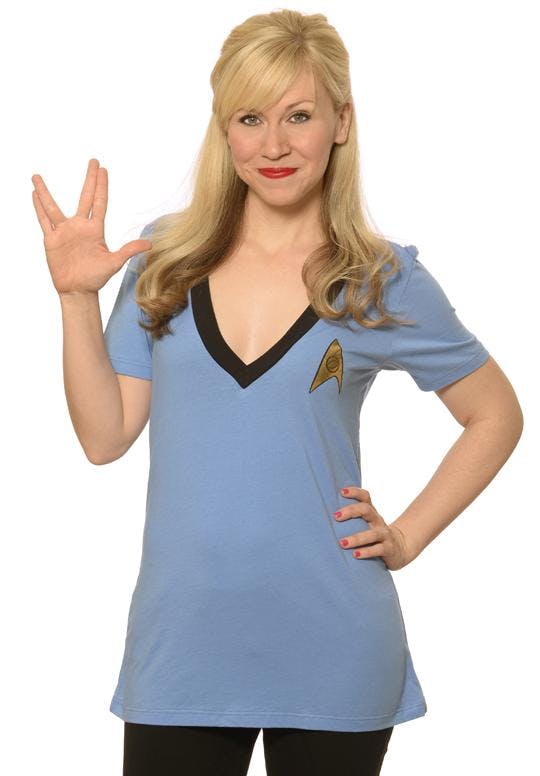 Her Universe (Booth #2913-F)Her Universe will be premiering the Spock V-neck, designed with a deep V, and the iconic Star Trek insignia, highlighted with gold foil.
IDW Publishing (Booth #2643)
IDW will host multiple creator signings, including Mike Johnson, Scott Tipton & David Tipton, and J.K. Woodward. Large Booth Graphics for the Star Trek Ongoing Series, the Stardate Collection Vol. 1, and the Khan mini-series will be available for purchase, and the booth will be carrying a full line of both regular and limited-edition Star Trek comics and graphic novels. Fans looking for even more Star Trek should attend the IDW panel, which will prominently feature the iconic franchise.
Light Speed Fine Art (Booth #3745)
Light Speed Fine Art will be hosting a signing with a number of Star Trek: The Next Generation actors, including Brent Spiner (Lieutenant Commander Data), Michael Dorn (Lieutenant Commander Worf), and Marina Sirtis (Commander Deanna Troi).
Moebius (Booth #5349)
Moebius will be showing a concept for its high-end, Star Trek: The Original Series 12-inch Kirk action figure.
NECA (Booth #3145)
NECA will show the Star Trek: Attack Wing Miniatures Game which will be available for purchase in August.
QMx (Booth #3249)
QMx will be debuting the Vengeance Artisan Replica from Star Trek Into Darkness and the NX-01 Artisan Replica from Star Trek: Enterprise.
Comic-Con will be the first time fans can purchase the Spock, Kirk and Uhura Q-Pop figures, the 2013 Starfleet Academy Class ring replica, the plush Enterprise and Tribble collectibles.
Exclusively for Comic-Con, the "Mirror Universe" Spock Q-Pop will be available for purchase. Finally, visitors will be able to see the phaser replica that's included in an Amazon bundle.
ThinkGeek (Booth #5541)
ThinkGeek will be selling its latest Star Trek item – an inflatable U.S.S. Enterprise.
Mimoco (Booths #2913-M and 5338)
Mimoco will have the SDCC'13 limited edition Star Trek Into Darkness Klingon Captain MIMOBOT USB flash drive (edition of 1000) alongside Star Trek: The Original Series' Captain Kirk, Spock, Sulu and and Star Trek: The Next Generation's Picard and Data. The USB flash drives will be available in sizes from 8GB up to 64GB.
Rubies (Booth #3649)
Rubies will be selling Captain Kirk, Spock, Scotty and Uhura costumes along with Spock ears and wigs, and a phaser weapon.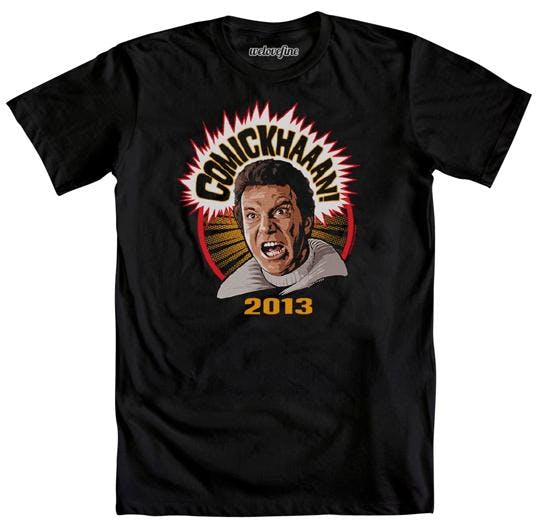 Square Enix (Booth #3829)
Square Enix will be showing sculpts of their high-end collectible Star Trek Into Darkness 10" Captain Kirk and Spock Play Arts KAI action figures.
Titan Entertainment (Booth #5537)
Titan will host a signing with artist Juan Ortiz to celebrate the release of his book, Star Trek: The Art of Juan Ortiz on Sunday, July 21 from 12 -1 pm at AA05, and they will also preview the new Khan bust amongst others and have a limited number of Picard and Kirk busts on sale!
WeLoveFine (Booth #5647)Mighty Fine will offer a limited number of exclusive Star Trek "Comic-KHAAAAN! 2013" T-Shirts. Artist Juan Ortiz will be signing at the WeLoveFine Pop-Up Shop at the Hilton San Diego Gaslamp (401 K Street) on Sunday July 21 at 10:30 am.
Keep an eye on StarTrek.com for additional news (and times) about Star Trek events and giveaways. Also to keep track of all the Star Trek action at Comic-Con, follow us on Twitter at www.twitter.com/startrek.