Goldsmith Receives Posthumous Walk of Fame Star
Goldsmith Receives Posthumous Walk of Fame Star
---
By StarTrek.com Staff
The late, great, Oscar-winning composer Jerry Goldsmith received a well-deserved Star on the Hollywood Walk of Fame on May 9. Goldsmith, who died in 2004 at age 75, started his career at CBS and ultimately scored more than 200 movies and television shows. Along the way, of course, he composed the scores for such Star Trek enterprises as The Motion Picture, The Final Frontier, First Contact, Insurrection and Nemesis. The heraldic theme from TMP was used for The Next Generation, and he also created the main theme for Voyager, winning an Emmy Award for the latter.
Songwriter Paul Williams, Carol Goldsmith, Aaron Goldsmith, Songwriter Charles Fox, Composer David Newman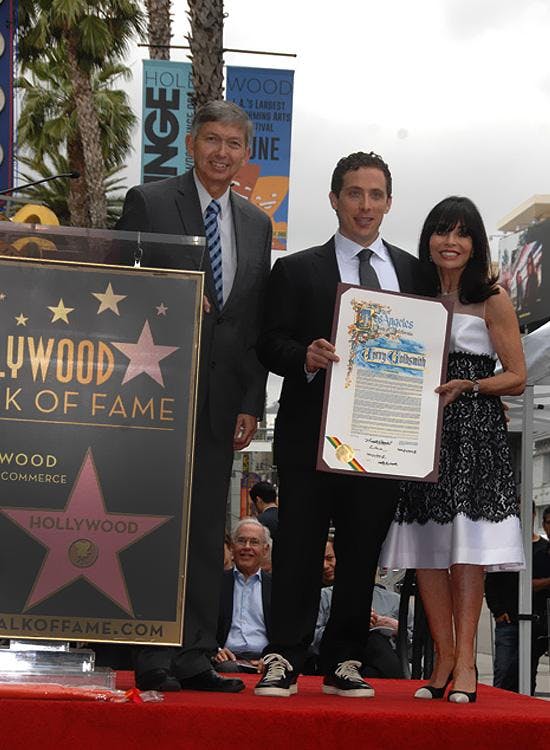 Pres. CEO of Hollywood Chamber of Commerce Leron Gubler, Jerry's son Aaron Goldsmith, Jerry's widow Carol Goldsmith
Carol Goldsmith, Aaron Goldsmith
Goldsmith's star was the 2,611th presented on the Hollywood Walk of Fame, and it is located at 6752 Hollywood Boulevard, appropriately in front of the Musicians Institute. Hollywood Chamber of Commerce president and CEO Leron Gubler presided over the dedication ceremony and was joined by Goldsmith's widow, Carol Goldsmith, and son, Aaron Goldsmith, as well as speakers David Newman, Charles Fox and Paul Newman, all Goldsmith's composer contemporaries.
The 37-minute ceremony can be viewed on the Walk of Fame website.