FIRST LOOK: Covers of IDW February Comics
FIRST LOOK: Covers of IDW February Comics
---
By StarTrek.com Staff
IDW Publishing has just revealed its Star Trek titles for February 2017, and StarTrek.com is pleased to share details about the titles and exclusive First Looks at their covers.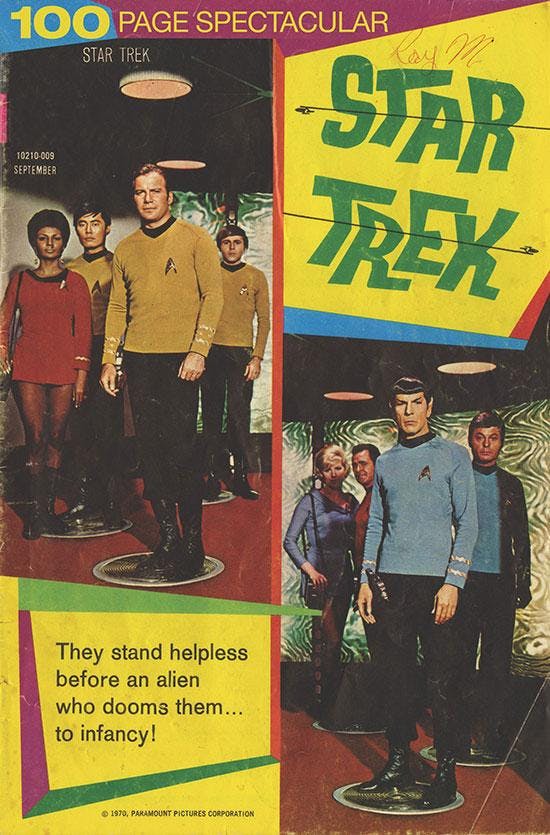 First up is Star Trek Gold Key 100-page Spectacular, written by Dick Wood and Len Wein, with art by Nevio Zaccara and Alberto Giolitti, and a Michael Stribling cover. It's a special 100-page collection of classic Gold Key Star Trek comics. Created by writers and artists who had not seen the show often (or at all) and worked off of whatever publicity materials they could get their hands on, the Gold Key Comics are true 1960s gems. Needless to say, the end results were definitely unusual - and very un-Trek in some cases: a blond Scotty! Spock kills! The Enterprise belches fire!. Collecting "The Planet of No Return," "The Youth Trap," and "The Enterprise Mutiny," this special also features a history of the Star Trek Gold Key comics by author Joe Berenato. It runs 100 pages and will cost $7.99.
Star Trek New Visions: Sam is the latest from writer and photo-manipulator John Byrne. In it, James Kirk faces the greatest challenge of his life when his own brother is accused of murder. Sam will run 48 pages and sell for $7.99.
Next there's Star Trek: Boldly Go #5, written by Mike Johnson, with art by Tony Shasteen and a George Caltsoudas cover. The ongoing series continues with this special story focusing on Jaylah, the breakout alien heroine from Star Trek Beyond. Readers will learn the secrets of Jaylah's past as she prepares for a bold new future at Starfleet Academy. Boldly Go #5 will run 32 pages and cost $3.99. Fans should be on the lookout for a subscription variant that features a covery by Tony Shasteen and also a variant cover by Marc Laming.
Finally, there's Star Trek/Green Lantern Vol 2 #3 (of 6), written by Mike Johnson, with Angel Hernandez providing the art and cover. In issue #3 of the blockbuster crossover, the race to the planet Oa continues. Will Captain Kirk and Hal Jordan be the first to find the legendary home of the Green Lanterns, or will Sinestro and the Klingons beat them to it? #3 will run 32 pages and be priced at $3.99. The subscription variant will feature a Sandra Lanz cover, while Aaron Harvey has created the variant cover.
For additional details, contact your local comic book retailer or visit www.comicshoplocator.com to find a store near you. Keep an eye on StarTrek.com for additional details about the IDW's upcoming Star Trek adventures, as well as exclusive First Looks at covers and preview pages.