Exclusive Products, Signings & More Set for NYCC
Exclusive Products, Signings & More Set for NYCC
---
By StarTrek.com Staff
New York Comic-Con will be held October 5-8 at the Javits Center in Manhattan, and Star Trek – on the heels of Star Trek: Discovery's debut -- is set to make an indelible mark over the weekend with a whirlwind of activities that encompasses a Discovery panel, a fan meetup and a Discovery Captain's Chair photo op. And, as always, a galaxy of Star Trek licensees is beaming in for the occasion, with new products, NYCC-exclusives, giveaways and signings. The long list of licensees includes Anovos, Chronicle Books, Diamond Select Toys, Eaglemoss, FanSets, Hallmark, Harper Collins, IDW Publishing, Loot Crate, Rubies, RockLove Jewelry, Simon & Schuster and Titan.
Star Trek: Discovery Panel (The Theater at Madison Square Garden)
Cast and creatives from the newest Trek show in the galaxy will participate in a hot-ticket panel on Saturday, October 7 from 3:45-4:45 p.m.
U.S.S. Discovery Captain's Chair (1B-01)
Captain Lorca has nothing on you. It's the ultimate photo op and your chance to captain the ship! This is your chance -- all weekend long, in 1B-01 -- to pose for a free photo in Lorca's chair from the U.S.S. Discovery.
Star Trek Fan Meetup
Get together with your fellow Trek fans during this special meet-up, It'll happen from 5:15-6:15pm in 1C01.
Top exclusives and signings available on site include:
ANOVOS (Booth #1536)
Check out a preview of their upcoming Discovery uniforms, which will be displayed for the first time – and available for pre-order.
Chronicle Books (Booth #2323)
Are you ready for Star Trek Cats patches? Captain Kirk will be available on Thursday, Oct. 5, followed by Uhura on Friday, Oct. 6 and Spock on Saturday, Oct. 7. The patches will cost $5 each, with a limit of three per person, while supplies last. Also: Buy Star Trek Cats, receive a free poster.
Diamond Select Toys (Booth #1644)
Among the products, DST will have on display: Star Trek Select Borg Action Figure, Star Trek USS Reliant Electronic Starship and the Star Trek Electronic Phaser.
Eaglemoss (Booth #1520)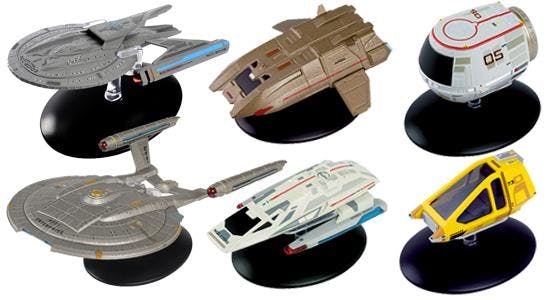 Eaglemoss will wing its way into NYCC with a host of exclusive and never-before-seen starships. Ships making their debut will include the U.S.S. Aventine NCC-82602, a mega-sized Enterprise NX-01, the Starfleet Office Complex Travel Pod 05, a Space Dock Work Bee, and the Argo. Also set to be on display and available for sale will be the U.S.S. Titan and the Deep Space Nine Space Station K-7.
FanSets (Booth #2266)
FanSets will be in the house with their popular line of Star Trek Pin sets pins, including their brand-new Discovery pins and a special, NYCC-exclusive pin.
Hallmark (Booth #1920)
Hallmark will offer a sneak peek at its 2018 Star Trek Keepsake Ornaments -- and possibly more, too. They'll also have with them the 30th Anniversary Star Trek: The Next Generation Enterprise-C Keepsake Ornament, a variety of TNG itty bittys, Picard and Data with sound, and the U.S.S. Franklin.
Harper Collins (Booth #2118 & 2119)
Harper Collins will offer a number of their Star Trek titles. Most notably... the revised, massive Star Trek Encyclopedia.
IDW (Booth #1844)
Be on the lookout for a NYCC-exclusive Boldly Go Vol. 1 variant, as well as the just-released Mirror Broken and Discovery titles. And, be sure to visit the booth for details about Waypoint artist signings.
LootCrate (Booth #536)
LootCrate is touching down at NYCC, and it's the best time to sign up for the Star Trek Mission Crate. They are offering a discount code exclusive to the show, so stop by and sign up for the first crate, which will include this exclusive QMx Locutus of Borg Mini Master + much more.
Simon & Schuster (Booth #2128)
The S&S booth will be bustling all weekend. Among the Trek titles that'll be available: Discovery: Desperate Hours, DS9: Gamma: Original Sin, Hearts and Minds, and Section 31: Control. They'll be giving away TOS: Legacies #1: Captain to Captain (on Friday at 3:30) and Prey #1: Hell's Heart (on Saturday at 3). And there's more. S&S will offer a free chapter (chapter 2) of Desperate Hours via Foli at the Javits Center and at the Theater at MSG throughout the weekend. They'll also have a Discovery-themed Snapchat filter at the Theater at MSG during the Discovery panel on Saturday. Lastly, be sure to catch author David Mack signing copies of Desperate Hours in the S&S booth at 2pm on Friday.
Titan (Booth #2142)
Titan will have available the new Star Trek:The Makeup Artistry of Joel Harlow, priced at $45, which includes a frameable print signed by Oscar-winner Harlow. Fans can also pick up an exclusive early copy of The Autobiography of Jean-Luc Picard -- which comes with a limited-edition, free enamel Enterprise pin. And be sure to attend "Inside The Autobiography of Jean-Luc Picard" on Oct. 5 (Booth 174 at 3:45-4 pm), during which author David A. Goodman will be interviewed at the NYCC Livestream.