DS9 & Voyager Writer Lisa Klink Previews New Book
DS9 & Voyager Writer Lisa Klink Previews New Book
---
By StarTrek.com Staff
Former Star Trek: Deep Space Nine and Star Trek: Voyager writer Lisa Klink is back in action, and her latest project is All In, a novel due out next month. Klink -- who wrote DS9's "Hippocratic Oath," more than a dozen Voyager hours and also Borg Invasion 4D, and who served as executive story editor for Voyager -- previously wrote the Dead Man book series.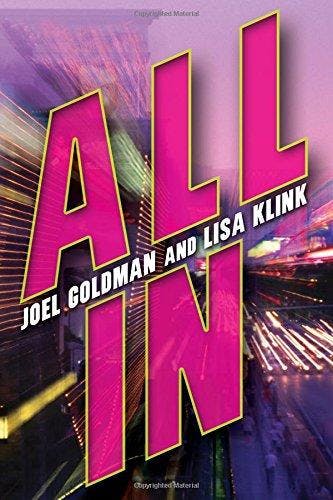 All In centers on Cassie Ireland, who works as a modern-day Robin Hood for people who have nowhere else to turn, not even to the police. Jake Carter is a roguish high roller traveling the world to play — and win -- big-money poker. As Lady Luck would have it, the two unexpectedly find themselves targeting the same mark: Alan Kendrick, a ruthless, megarich hedge fund manager who doesn't mind padding his bank account with a few shady deals. He's swindled the wrong people this time -- and now Ireland and Carter will join forces to take him down. From New York to Buenos Aires to the Mediterranean, Cassie and Jake go all in, risking everything, including their lives, in a game with the highest of stakes and no rules. Who is the hunter, and who is the prey?
"I'm very excited about All In," Klink told StarTrek.com. "My co-author, Joel Goldman, has already written three successful crime thriller series, featuring Lou Mason, Jack Davis and Alex Stone. He invited me to collaborate with him on a new series with dual protagonists, professional gambler Jake Carter and asset recovery specialist Cassie Ireland, who flirt and spar as they face off against the rich, powerful and corrupt. The tone reminds me of fun heist movies like The Thomas Crown Affair and one of my favorite shows, Leverage."I got started writing novels with the Dead Man series, edited by my friends and former showrunners William Rabkin and Lee Goldberg, but All In was a whole new creative challenge," she continued. "There are no aliens, holograms or undead ghouls whatsoever. It's set in the real world, albeit a somewhat heightened reality where everyone is witty and gorgeous. Joel and I had so much fun writing it that we're already working on the next Carter and Ireland novel."All In will be published by Thomas & Mercer, a division of Amazon, on September 8th in paperback, Kindle and audiobook formats. Visit amazon.com/dp/1503944646 to pre-order.
---
Follow us for more news at StarTrek.com and via our social media sites.