Discovery Captain's Duty Uniform Coming Soon
Discovery Captain's Duty Uniform Coming Soon
---
By StarTrek.com Staff
Are you itching to cosplay Captain Lorca or Captain Georgiou to such a degree that Jason Isaacs and Michelle Yeoh might be jealous? Well, you'll soon get your chance, as ANOVOS has just unveiled its upcoming Star Trek: Discovery Captain's Duty Uniform, a costume replica created using reference taken from original, screen-used production assets. The product is available now for pre-order.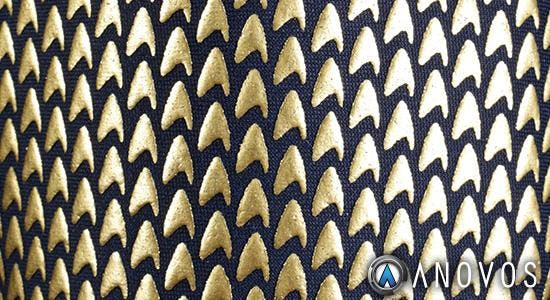 Among the highlights of the uniform:
Ensemble is available in the Captain's Variant with Command Gold details.
Fabric is 90% athletic spandex with 10% speciality contrast spandex fabric for channel stitching, dyed to match production colors.
Diagonal full-length zipper functionality for tunic.
Raised rubberized Delta print for tunic and pant inset detail panels is custom-made.
Side and shoulder striping for tunic and pant is raised rubberized print.
Gold rubberized print striping in shoulder contrast panels of tunic.
Hook and bar attachment points to secure tunic to pant for optimal fit.
Replicated zipper pulls as per the original assets.
Functional pockets on thighs.
Screen printed knee detail.
Ensemble includes one (1) Command division insignia badge, (via Quantum Mechanix).


The Star Trek: Discovery Captain's Duty Uniform will ship in the summer of 2018. ANOVOS is offering a special introductory price of $467 (15% off) now until October 23, after which it will be priced at $550. Go to http://bit.ly/star_trek_discovery to take advantage of the pre-order discounted price.