Create Your Own Vulcan Ears, Division Badge, More with 3Doodler
Create Your Own Vulcan Ears, Division Badge, More with 3Doodler
---
By StarTrek.com Staff
ThinkGeek is getting into the 3Doodler business not once, but twice. First, there's a new 3Doodler Create Star Trek Pen Set, and then -- for those who already own the Pen Set -- there a 3Doodler Create Star Trek Project Kit.
The 3Doodler Create Star Trek Pen Set lets you create small items with plastic. In other words, it's a tiny, handheld 3D printer with which you can build things by drawing freehand. We're talking a TOS division badge or your very own Vulcan ears or perhaps a homemade phaser. The set includes 15 different Star Trek projects.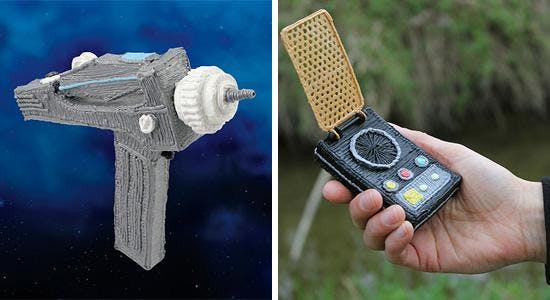 Among other product highlights:
It extrudes heated plastic that cools almost instantly into a solid, stable structure
An ambient light bar indicates when it's on
The transparent side panel lets you watch it work
It features two speeds and two temperature settings (low 356-392°F or high 392-446°F), as well as a warm-up time of just over a minute
Ideal for both right and left hand use
Also includes 3Doodler Create Star Trek 3D Printing Pen, 50 plastic strands in a selection of Star Trek colors, 110V~240VUL rated, output: 5V, 1.2A (6W) power adapter, Quick Start Guide, Star Trek Activity Guide, Unblocking tool, Mini spanner (wrench) and Mini screwdriver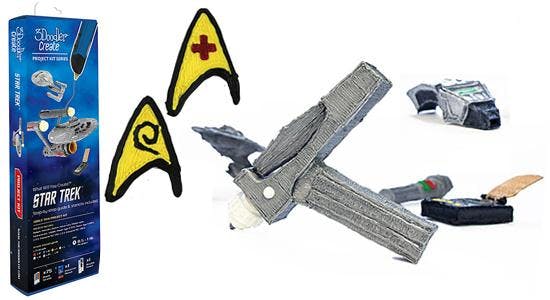 As for the 3Doodler Create Star Trek Project Kit, it takes the 3Doodler handheld 3D printing pen and Trekifies it. The 3Doodler Create Star Trek Project Kit comes with a Star Trek Activity Guide and 75 plastic strands in Star Trek colors. This set comes with 15 Star Trek projects that take about an hour per project to complete.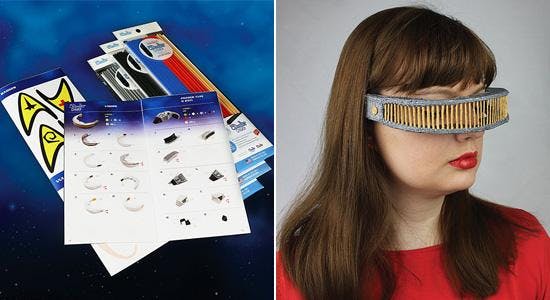 Among other product highlights:
Comes with 75 plastic strands in a selection of Star Trek colors, including 10 red, 10 blue, 5 of one gold, 5 of another gold, 10 white, 25 grey and 10 black
Includes a Star Trek Activity Guide