Celebrating the Skant
---
By John Cooley
When Star Trek: The Next Generation premiered in 1987, everyone wanted to know how much it would adhere to the aesthetic established in The Original Series from 20 years earlier. As it turns out, TNG was very different from the first show, though there were some similarities. One of the people who returned for TNG's first season was William Ware Theiss, the trendsetting costume designer who made such an impression during Star Trek's original run, was given a new challenge: to boldly reinterpret his original Starfleet Uniforms.
Theiss gained a certain amount of notoriety for the revolutionary costume designs featured on a variety of guest stars throughout the three-year run of the Original Series. As one would expect, they were very modern, that is to say, very MOD. The ultimate example of that MOD design esthetic was the design of the women's Starfleet Uniform Miniskirt. Very much a product of their time, the micro-mini was seen as a symbol of the women's liberation movement and as something empowering at the time. It's was no accident at that moment in history, Theiss dressed Lt. Uhura in just such an outfit. Fast forward to 1987, where he was asked for a no-less-iconic skirt design.
His answer to that challenge was the Starfleet Uniform Skant. No longer just a mini dress, the Skant would be made out of the space age fabric of the 1980's:spandex. In fact, it was made from the same jumbo weight spandex that the TNG one-piece spacesuits — as the cast came to call them — were made of. Instead of a simple skirt, it would be constructed for action with an intricate system of zippers and flaps to close and fasten the garment around the wearer. And unlike the original mini dress, this Skant (under the direct order of series creator Gene Roddenberry) would be worn by any Starfleet crew member regardless of gender. This Skant was intended to not only look good, but make a fresh statement of its own in this new era, and for a new generation.
For our replica that we previewed at this year's Star Trek Las Vegas celebration, we were fortunate to be able to take exacting measurements and examine the construction of an original first-season Skant that was sewn under the supervision of Mr. Theiss himself in 1987. We also examined patterns and color reference from original skants in archives that survived from the original production of TNG. We then handed all of this data to our design and prototyping team to create one of the most-exacting replicas of the women's TNG uniform Skant we'd ever seen. We made a few changes to the construction for ease of wearability — without needing an on-set costume department dresser! Other than changing the overly complicated closure system to a simple side zip, the Skant would look right at home on the TNG set.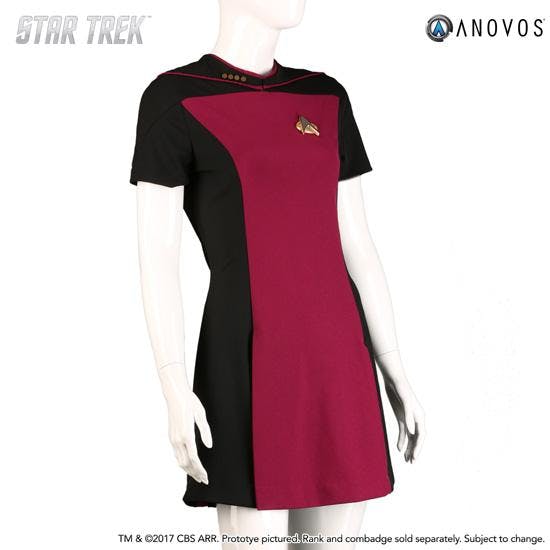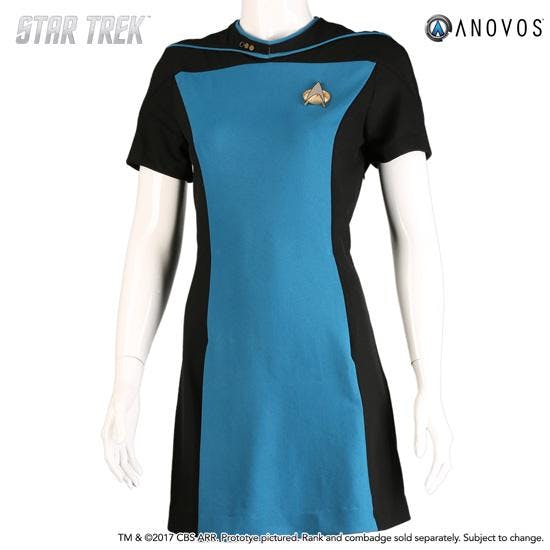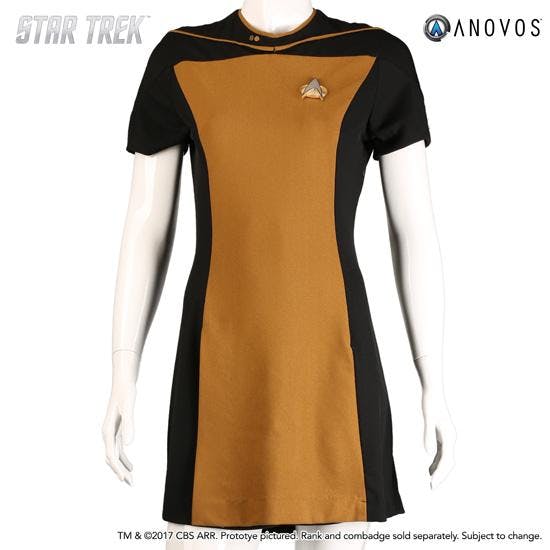 So, whether you're at Sciences station, at Tactical, acting as a counselor to the crew, or commanding a Galaxy Class Starship, we have the uniform for you.
This item is available for pre-order online at ANOVOS.com. It's priced at $250.00 USD, and is available not only in all three divisions (Command, Sciences, and Operations), but in sizes from Small through 2XL. This item is also eligible for our Payment Plan, with details on that available via the website. Estimated shipment in Spring 2018.