Star Trek III: The Search for Spock opened on June 1, 1984. StarTrek.com, to celebrate the 30th anniversary of the film, takes a fond look back. Star Trek II: The Wrath of Khan had surprised everyone: the modestly budgeted drama-adventure reinvigorated the Star Trek fan base, proved successful at the box office and impressed critics. Of course, Spock perished near the end of Star Trek II, which meant that large portions of Star Trek III had to be devoted to searching for, finding and then resurrecting everyone's favorite half-Vulcan/half-human on the Genesis Planet. And that task fell to Leonard Nimoy, in more ways than one. Not only did he reprise his role as Spock, but he made his debut as feature director with Star Trek III.
So... some Star Trek III tidbits, factoids and questions to consider.
-- Producer Harve Bennett, who co-wrote the story for Star Trek II received solo screenplay credit for Star Trek III. His original 20-page outline for Star Trek III was titled Return to Genesis.
-- By the time Christopher Lloyd played Kruge in Star Trek III most people were used to seeing him in comedic mode, as he'd spent several seasons co-starring as Reverend Jim Ignatowski on the acclaimed series Taxi. Lloyd was actually not first choice to play Kruge. The filmmakers wanted Edward James Olmos, who many years later starrred on the Battlestar Galactica redux produced by Ronald D. Moore, but executives at Paramount Pictures apparently shot down that casting idea.
-- A fire broke out at Paramount during the filming of Star Trek III, causing some damage near the Genesis Planet set. Among those who helped fight the fire? Captain Kirk... or rather William Shatner, in full Kirk regalia.
-- James B. Sikking, who played Captain Styles, was an old friend of Harve Bennett's and, at the time, a co-star on the landmark television drama Hill Street Blues, on which he played Lt. Howard Hunter. Look for an interview with Sikking tomorrow, here on StarTrek.com.
-- Five different actors portrayed Spock in the film: Carl Steven (Spock at 9), Vadia Potenza (Spock at 13), Stephen Manley (Spock at 17), Joe W. Davis (Spock at 25) and, of course, Leonard Nimoy.
-- John Larroquette was in his first season as Dan Fielding on the show Night Court when he played the Klingon, Maltz, in Star Trek III.
-- Robin Curtis replaced Kirstie Alley as Saavik, while Merritt Butrick reprised his role as David. Butrick later guest starred on Star Trek: The Next Generation, portraying T'Jon in the episode "Symbiosis." The actor was just 29 years old when he passed away on March 17, 1989.
-- Mark Lenard reprised his role as Sarek nearly a full 17 years after appearing in the "Journey to Babel" episode of The Original Series. He went on to play Sarek again in Star Trek IV and Star Trek VI, as well as in the TNG episodes "Sarek" and "Unification, Part I." He died in 1996 at the age of 72.
-- The Enterprise went down in a blaze of glory. Trivia Question: Which three characters engaged the destruct sequence, and in what order did they do it?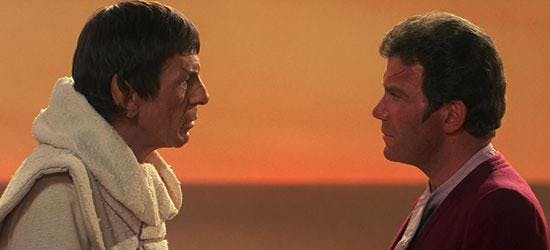 -- What's your favorite line of dialogue? On the comedy end of the spectrum, we'll go with Dr. McCoy reacting to Uhura's toughness in dealing with Mr. Adventure: "I'm glad you're on our side." And on the dramatic end of things, the "needs of the one outweighed the needs of the many" line reversal is great, but we'll argue for the following Sarek-Kirk exchange: "Kirk, I thank you. What you've done is..." "What I've done, I had to do." "But at what cost? Your ship... Your son." "If I hadn't tried, the cost would have been my soul."
-- Star Trek III debuted at number one at the box office, grossing just shy of $16.7 million. It bested two other debuting films that weekend, Streets of Fire and Once Upon a Time in America, and several holdovers, including Indiana Jones and the Temple of Doom, The Natural, Breakin' and Romancing the Stone. It ultimately grossed $76.5 million domestically, about $2.5 million less than Star Trek II.