Celebrating Frank Gorshin, Bele on TOS
Celebrating Frank Gorshin, Bele on TOS
---
By StarTrek.com Staff
The late, great Frank Gorshin left behind too many memorable performances to count, but a pair of characters remain front and center in the minds of television viewers everywhere: The Riddler on Batman and Commissioner Bele in the Star Trek: The Original Series episode "Let That Be Your Last Battlefield." The actor/comedian/impressionist/Vegas veteran was born on April 5, 1933, and would have turned 84 today. Sadly, he passed away in 2005. Today, we celebrate Gorshin's birthday with some facts and anecdotes you may not have known:
Pittsburgh, Baby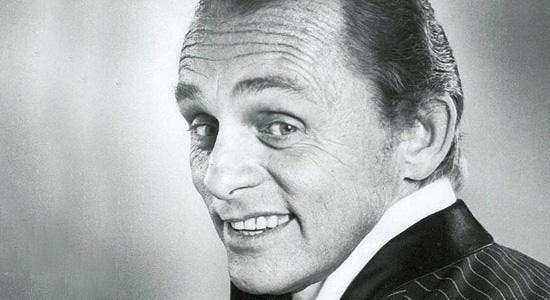 Gorshin was born on April 5, 1933, in Pittsburgh, PA, and was raised there as well. He landed his first professional job at age 17... after winning a talent contest.
A Really Great Show
Guests on The Ed Sullivan Show on February 9, 1964 included Gorshin, as well as two child actors (from Broadway's Oliver!), the comedy tandem of Mitzi McCall and Charlie Brill, plus a young British band called The Beatles. Brill's name will surely resonate with Trek fans. He played Arne Darvin - a Klingon posing as a very cranky human - in the TOS episode "The Trouble with Tribbles," and he reprised the role 29 years later in the Deep Space Nine hour "Trials and Tribble-ations."
A Significant Episode
Gorshin spoke to RealityCheckTV.com in a 1999 interview recorded at an autograph show. Looking back on "Let That Be Your Last Battlefield," he commented, "That was a significant episode, in as much as it made a social comment at that time. We're talking 1966. It was a racial thing. I played a character who was black on the right side and white on the left side, and my adversary was the opposite. He was black on the left side and white on the right side."
Holy Overlap, Batman
Given the facts that TOS and Batman ran around the same time and that both shows relied heavily on guest stars, it's no surprise that Gorshin and several other talents overlapped on the two shows. According to Memory Alpha, "Other Trek alumni he worked with on (Batman) are Roy Jenson, Sherry Jackson, Theo Marcuse, Yvonne Craig, Joan Collins, Gil Perkins, and director Robert Butler. Gorshin also played The Riddler in the 1966 Batman film produced to capitalize on the TV show's success. The film also featured Lee Meriwether, Gil Perkins, Dick Crockett, and George Sawaya. The character of The Riddler was subsequently voiced by Michael Bell on the 1970s series Challenge of the Super Friends and by John Glover in the 1990's Batman animated series." Both Bell and Glover guest starred on later Trek series.
Say Goodnight, Gracie
Gorshin went out in style. In late 2002, he starred as George Burns in the Broadway production of Say Goodnight, Gracie. According to the New York Times, "During its run, Mr. Gorshin learned he had lung cancer, a condition he kept secret, all the while performing eight times a week." And for his very last screen appearance, the Times reported in its obituary, he fittingly played himself in an episode of CSI that aired just days after his passing.
Join us in remembering Frank Gorshin on what would have been his 84th birthday.