Catching Up with Nichole McAuley, Jeri Ryan's Photo Double and Voyager Guest Star
Catching Up with Nichole McAuley, Jeri Ryan's Photo Double and Voyager Guest Star
---
By StarTrek.com Staff
Nichole McAuley was all over Star Trek: Voyager its final few seasons, once with a particularly memorable role. The actress/model/dancer/makeup artist served as a photo double for Jeri Ryan/Seven of Nine. She also appeared on screen in multiple episodes as a background performer, usually portraying a science officer and even turning up as a Borg. And, in the episode "Life Line," she played the striking-looking holographic Tarlac masseuse. Though she still acts on occasion, McAuley – inspired by her experiences on Voyager – now works primarily as a makeup and hair artist, getting others ready to step in front of the camera for movies, shows and commercials. McAuley will make her first-ever Star Trek convention appearance at Star Trek Las Vegas, which will be held August 2-6 at the Rio Suites, and StarTrek.com used the opportunity to chat with McAuley about her Trek work, current projects and more… Let's get people caught up. What are you working on at the moment?
Let's go back in time to Voyager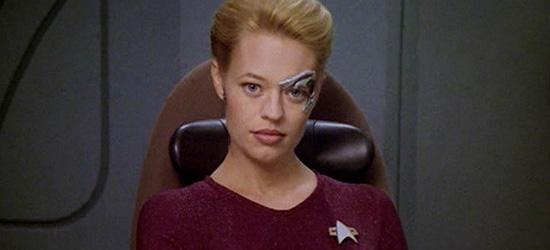 one episode turn into much more?They set up an interview with women with similar body specifications as Jeri's. We were at the studio and met with producers and the director of the episode they needed her for. It was a scene where they needed two bodies at the same time. Seven is seeing and speaking to herself as human. And then the reverse. At that time, I had no idea if it was for just one episode or several. As it turned out, we matched so well they kept me on.Some people may not know what photo doubling is. So please explain it a bit, and also the difference between second unit doubling and first unit doubling.
A photo double is used when they need body inserts for a shot like her hands on a keyboard, or the back of her while a reverse shot is being done on the other actor. Maybe her legs while walking. These can all take a lot of time setting up with lighting and all. They may need that particular actor on another set. So that's when they can save time and use a double. I ended up working as a double for many actresses on several other movies and shows as well.
How many episodes did you work doubling Jeri?
How well did you get to know Jeri, and how grateful was she to have you there?
I really did not get to know Jeri very well, because when I was on set doing her insert shots she was usually not on the same set. She also had a child at that time and with me being able to double her, she was then able to spend more time with him. So, I assume it was a great situation for her as well.You also appeared as a science officer quite often. How did that opportunity come about, and how did you enjoy those experiences?
I did also appear as a science officer, and a full Borg. It was easy to keep me working pretty regularly since when Seven was full human she was a science officer. They'd made the costume for me, so I might as well stay part of the crew. I also fit her full Borg costume as well. It was so much fun being able to step into these cool characters.
And then you played the holographic Tarlac masseuse in the episode "Life Line." Who said, "Let's cast Nichole for this role?"
That whole look -- costume, hair and makeup -- was so memorable. Take us through creating the character and then, in essence, channeling Robert Picardo…
How many total episodes of Voyager were you actually in?
If we've got the story straight, your time on Voyager inspired you to move into makeup. Is that right? If so, in what did you learn and in what ways were you inspired?
On your website, under clients, you list William Shatner. When did you work with him and on what, and how was the experience?
William Shatner and I worked on a 14-episode TV show called Syfy's Friday Night Fright Night with William Shatner.  I was the key makeup artist on it. It was directed by Charles Band. (Shatner) did all the intros and commentary in between the movies. It was a blast. He is quite charming.
You will be attending Star Trek Las Vegas in a few weeks. Have you ever done a Trek convention before, and how excited are you to meet the fans, answer their questions and sign autographs?
IMDB references Syndicate Smasher and ZombieCON, which you'd mentioned earlier, as upcoming acting projects. What do you play in each?
Syndicate Smasher just had a sold-out theatrical premiere. I play Teresa, the love interest of the lead actor played by Mel Novak. It's a gangster kind of film, more action than you can imagine. It's a fun ride. ZombieCON will have a theatrical release later this year. I play the mother, Mama Bear, to a group of cosplayers. I make their costumes and, of course, am their number-one fan. It's a fun journey these kids go on saving the world from all the a--holes in L.A., who have now turned into zombies. It has a sweet anti- bullying message with it as well. This film has something for everyone.Everyone who appears in a Trek episode or movie is part of the whole phenomenon. What does it mean to you have your unique connection to the franchise?