Catching Up With Camille Saviola, DS9's Kai Opaka
Catching Up With Camille Saviola, DS9's Kai Opaka
---
By StarTrek.com Staff
Camille Saviola has appeared in several Woody Allen films, starred in numerous plays and musicals (including The Who's Tommy, in which she played the mother and the Acid Queen), and recurred on several television shows, including The Heights and Entourage (she was Turtle's mom). But to Star Trek fans, the actress is best known for her role as Kai Opaka in the Deep Space Nine episodes "Emissary," "Battle Lines," "The Collaborator" and "Accession." Saviola is set to appear at Creation Entertainment's Official Star Trek Convention later this month in Las Vegas, and StarTrek.com seized the moment to chat with the energetic actress about her Trek work and what she's up to these days. Here's what she had to say.
How did you land the role of Kai Opaka in the DS9 premiere?
SAVIOLA: They saw everyone and her mother for that role. I remember walking in the casting building at Paramount and looking down the hallway and seeing everybody else who was auditioning for it. Junie Lowry-Johnson, who was always supportive of me through the years, just said, "I don't know. I'm going to bring in Camille Saviola for this." And in true kind fashion, I sent myself in (spiritually) before I even entered the room. It was just really weird because I had to do the reading scene of the Pah-wraith, and the whole room shifted. And I got the job. The designer put me in my three layers of couch fabric and two pairs of shoes. One was like flat dancer shoes, lace-up, and the other was a sandal which went over it. I was like, "You're killing me here." But it was fun, really, really fun.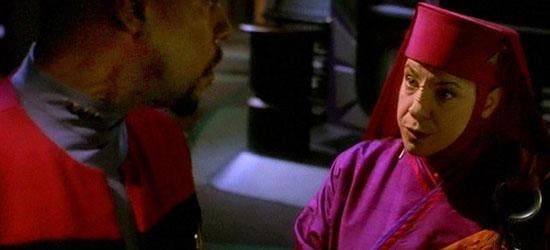 What do you remember of the shoot itself?
SAVIOLA: I remember how interesting it was to shoot certain scenes. In one scene I went down these spiral steps, but then, with the green screen and effect, I was descending through water. Or when I opened the housing for the orb, there was nothing there, so I had to fill in the blanks. It was interesting to see the episode and how, in post-production, they transformed those things and made them real.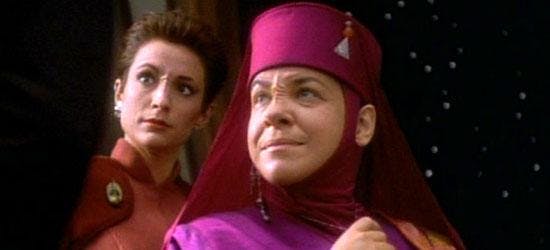 Did they tell you at the time she was going to recur? That she would die and still recur? And how did you enjoy your subsequent appearances?
SAVIOLA: I don't remember, actually, what they told me. She did recur, but she didn't really. Or not as often as I thought she would. I loved doing the first episodes, working with Avery and Nana. But here's a funny story. I went with a friend to see a movie. I'd just gotten a drink and a tub of popcorn and I was waiting for my friend, and one of the Star Trek producers – I don't remember which one – says, "Oh, Camille, hi." I said, "Hi." He said, "You get killed off in your next episode ("Battle Lines")." I just stood there. I thought I had a real gig. I passed out in my head. I went into the movie, but I couldn't tell you what was on the screen. I'm an actor. It was two hours of disbelief because you're so grateful to have a job that pays... but you learn that jobs come and jobs go.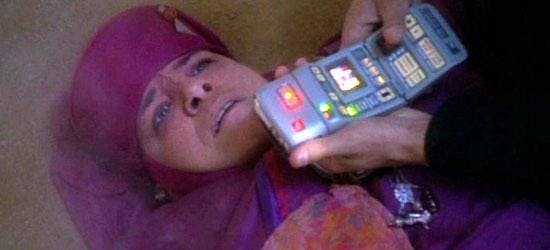 What did you make of your "death" scene?
Saviola: It was so emotional... so emotional to be left on the planet. I loved crashing. I visit the ship and I come through, and I say to Sisko, "Come with me." She has this mission to stop these centuries of warring where people kill each other and then come back to life. It's all metaphorical. Unfortunately, that doesn't happen in human terms. You get killed, you stay killed. It was great to shoot, though, and there's a great blooper where Avery says, "Well, we'll go in about an hour…" I look at him and I look at my imaginary watch, and I said, "I've got about 15 minutes, so…" It's a great blooper and Avery just cracked up. Anyway, they try to resuscitate me for about five seconds, and she's dead. And Bashir is kicking gravel in my eyes. So I'm dead and they leave me and say, "If we can ever find a way…" That's how they leave it open… if they can ever find a way to come back and get me. And the truth was if they ever needed me back they could have written a script about it.
But Nana and I had a great scene, a very emotional moment between us because of the mentor thing between them. What I loved was that Opaka was a woman of power, and that only seems to happen in outer space. She had dignity and a little bit of a sense of humor, even at the end. It would have been great to see who she developed into, but they brought in Kai Winn. And it's always more interesting to see a more evil. I always thought they should have written an episode where you find out they went to the same seminary together or there was competition between them or that something bad happened between them. So I thought it could have been really interesting between the two Kais – a grab for power, a revolution -- but it didn't go that way. It would have been interesting, but that's for the ages. But I did get to come back twice after I died, and I learned (in "The Collaborator") that I had a son. That was exciting. Who knew?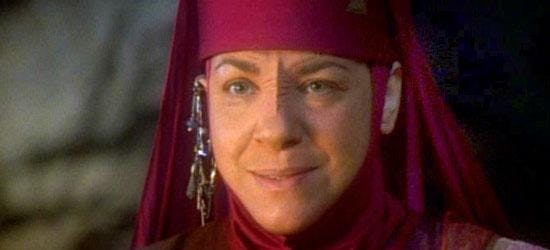 You'll be at Creation Entertainment's Official Star Trek Convention in a few weeks. What does it mean to you that you made enough of a mark that people want to hear your stories, get your autograph and pose for photos with you?
SAVIOLA: It's a kick in the rubber parts. When they contacted my representatives I was like, "Really? I thought that was dead and gone." I've gotten fan letters with people asking why I only did a few episodes and asking if it was a contract dispute. So, I was kind of gobsmacked by being asked to this convention. But I guess that Kai Opaka was not overexposed and, for the Star Trek fans, not detail is too small, no character is too small. Opaka was very mysterious in a way. She was there and she was not there. There was no evolution and no progression, but she'd been there. So the fact that there's interest? That's great. I'll get to meet the fans, go to a couple of buffets and I'll get to play the slots, you know? And I'll get to make a little bit of a living. It should be fun. I'm looking forward to it.
What are you working on these days?
SAVIOLA: I directed a one-woman solo play that just ended. That was called Random Acts, and it'll be done again at a solo festival in October. At heart I'm an old hippie, so things that are about social issues and politics really interest me. Look at my roles: I've played a Supreme Court justice and lawyers. I also just did a reading of a wonderful new play, a comedy called What Would Nora Say? And the Nora is Nora Ephron. I'm writing a lot of music and I'll be doing a cabaret show in New York in the next couple of months.
You've also completed a film called Hotel Arthritis, right?
SAVIOLA: Yes, that's with a whole bunch of insane people. My friend Rip Taylor is in it. It's got Lee Meriwether, John Tartaglia, Dawn Wells. It's about a bunch of older people in a place who are all of a sudden being killed. And it's a comedy.
Saviola, as noted, will be a guest at the upcoming Creation Entertainment Official Star Trek Convention in Las Vegas. Visit www.Creationent.com for details.