Captain Pike Writes His Story
Captain Pike Writes His Story
---
By Sean Kenney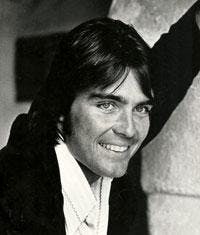 Sean Kenney made his mark on Star Trek playing both Captain Pike and Lt. DePaul on The Original Series. Anyone who's ever seen Kenney on stage at conventions knows that his story is worthy of a book. And now, finally, he's put that story in book form. CAPTAIN PIKE: FOUND ALIVE! is available now as a Kindle title on Amazon.com; click HERE to purchase and to read the first two chapters for free. In the meantime, StarTrek.com invited Kenney to, in his own words, explain why he felt compelled to put pen to paper and also to preview what readers should expect upon reading his autobiography. Kenney graciously took us up on the offer, and here's what he had to say:There's an old saying, "Baring one's soul is most difficult."  I thought that this was going to be the case when I was prompted by friends, family and fans to write my memoir.  There were many Star Trek fans who asked me whether I had thoughts of writing about my experiences on the Star Trek TV series in the roles of Captain Pike and also as the ship's 1st helmsman, Lt. DePaul. I also wanted to include parts of my life before I became an actor, starting out in Cambridge, Massachusetts, where I was born to the time when I went into the Air Force at 17.
To those people who may be interested in acting or a life of an actor, I've reminisced about how fortuitous it was when I got my first opportunity to act in a theater performance when the lead actor couldn't show up for the sold-out performance. Through a lucky break, there was an agent in the audience that brought me to meet Gene Roddenberry, who was looking for someone who had the features and bone structure similar to Jeffrey Hunter, who couldn't make it to complete the "Menagerie" episode. The rest is history. I also wanted to tell what it's like being on a set, working with directors, producers and crew for those that it might interest. For the Star Trek fans, I address my experiences working with Shatner, Nimoy and others.
As I warped backward in time, I began the task of remembering details of my past and the wonderful experiences I had some 47 years ago, to the days on Stage 4 and 5 at the Desilu Studios where I spent time making those characters come to life. Reliving the Pike character's evolution was the most rewarding. The names of the people involved flowed quite easily and conversations logged in my memory bank were recreated.
Fortunately, once the Star Trek conventions began, sometime in the 80s, I was able to reconnect with some of my former co-stars and friends that worked on the show. I devote a chapter in the book of fans at the conventions. I wanted to share the touching stories of so many who were inspired by the Star Trek series. There are many who've told me how the show gave them the inspiration to become, doctors, scientists, physicists and teachers. Others were helped dealing with personal and physical issues. I had the pleasure of meeting the most imaginative, creative and genius of three men: Gene Roddenberry, Gene Coon and Bob Justman, whom I've written about in the book. We can thank them for the pleasure that this franchise has brought to millions around the world.Just when you think that there might be an end to the Star Trek mania, J.J. Abrams created a film with Star Trek (2009) that has inspired a new generation of Star Trek fans. I am meeting them now at the conventions and they are the hope for our better future. The baton is being passed to the new breed of pioneers, so that they will keep the dream alive and well, and prosper!
With high regards,Sean Kenney