2017 will go down in history as a banner year for Star Trek. It began with the final celebrations of Star Trek's 50th anniversary, followed by events marking the 30th anniversary of Star Trek: The Next Generation. And, in the midst of all that came the buildup to and then debut of the newest Star Trek series, Discovery. So, please join StarTrek.com as we look in the rearview mirror at 2017's Star Trek highlights…
Star Trek: The Cruise
Star Trek: The Cruise set sail on January 9-15, 2017, with the Norwegian Pearl – under a UFP flag, mind you -- departing from Miami, Florida, and heading to Cozumel (Mexico), Nassau (Bahamas) and the private island of Great Stirrup Cay (Bahamas) as it sent Trek's 50th anniversary out in style.
Two thousand two hundred fans got in on the fun, with tons of Trek celebrities, Trek-themed activities and drinks and… well, everything was Trek-ified. Those weren't elevators whisking everyone up and down, but rather turbolifts. The wine of choice came from Chateau Picard.
And the celebrities on board immersed themselves in the experience: Yes, that was Marina Sirtis hosting a blackjack tournament, Ethan Phillips performing standup comedy, Robert Picardo playing Star Trek Family Feud, Terry Farrell leading poolside yoga sessions, Joe Piscopo hosting bingo and James Darren serenading fans during Showtime: A Night at Vic Fontaine's.
And did we mention Jordan Hoffman recording a live Engage: The Official Star Trek Podcast with Denise Crosby, Terry Farrell and Joe Piscopo? Or John de Lancie headlining Q's Masquerade Ball? Or the cruise's host, William Shatner, performing Showtime: An Evening with William Shatner?
Star Trek: Discovery
Star Trek: Discovery debuted September 24 on the CBS Television Network before making the leap (in the U.S.) to CBS All Access. In Canada, the show premiered on Space Channel and on Netflix in the rest of the world. It was the payoff to a period of tremendous anticipation, as details were dropped slowly but steadily via trailers, press releases, news stories, tweets, casting announcements, interviews and more, not to mention the appearances by cast and creatives at San Diego Comic-Con, Star Trek Las Vegas, New York Comic-Con and the Paley Center in New York City.
And speaking of the Big Apple, we at StarTrek.com particularly loved it when, on September 23, the U.S.S. Discovery made a special appearance in advance of the Discovery premiere, flying across the river and continuing north up the Hudson, before turning around right before the George Washington Bridge. The U.S.S. Discovery made a second appearance, flying along the Manhattan skyline before returning to spacedock. Check it out below:
StarTrek.com, of course, delivered much of the news to you, the fans, chatting on red carpets with the show's actors, writers and producers, venturing out to Toronto for a set visit and to Los Angeles for the star-studded Discovery world premiere, hosting panels at Star Trek Las Vegas, and reporting on Discovery novels, comic books, apparel and more.
And fans are tuning into Discovery, as it set new CBS All Access records for subscriber sign-ups in a single day, week and month. That, in turn, set the stage for an October 23rd announcement that CBS All Access had renewed Discovery for a second season.
TNG 30
Star Trek: The Next Generation premiered on September 28, 1987, and the 30th anniversary of that landmark occasion did not go unnoticed in 2017. Licensees unveiled TNG 30 coins, posters, pins, ship models, plates, apparel and more. The celebratory highlight, of course, was the near full-cast reunion held on August 4 during Star Trek Las Vegas. It featured Patrick Stewart, Brent Spiner, Marina Sirtis, LeVar Burton, Gates McFadden, Michael Dorn, John de Lancie and Denise Crosby. Jonathan Frakes was scheduled to join them, too, but a canceled flight put the kibosh on that. The old friends and colleagues, as usual, poked fun at each other, shared anecdotes about making TNG and, well, teased each other some more.
"The characters became very quickly a blend of the character and the actor," Stewart noted. "We were encouraged to use our own personalities and sometimes even our own strongest feelings. It's a little hard for me to answer questions about Jean-Luc Picard because they refer to myself."
Dorn offered the following advice to the Discovery cast: "Appreciate where you are, because you are extremely fortunate."
"I actually had a brain scan a few days ago," Stewart told the SRO audience of fans. Sirtis didn't miss a beat, cracking, ""Well... Did they find it?"
Nichols & Koenig Visit The Original Series Set Tour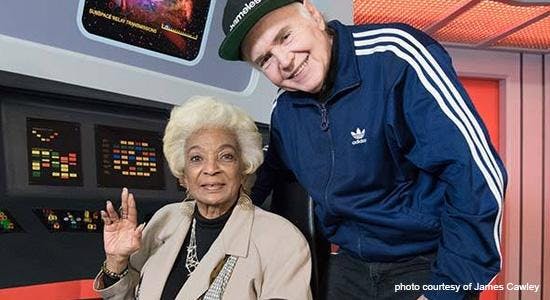 It was déjà vu all over again for Nichelle Nichols and Walter Koenig when, in late August, the TOS icons joined several popular guest stars (BarBara Luna, Michael Dante, Lee Meriwether, Mary Linda Rapelye and Charlie Brill) and plenty of dedicated fans for a weekend event at the Star Trek: The Original Series Set Tour in Ticonderoga, New York. Everyone toured the painstakingly re-created TOS sets, explored the corridors, sickbay, briefing room, captain's quarters, transporter room, engineering department and the bridge, as well as enjoyed Q&As, autograph sessions, trivia and cosplay contests, and more.