Trek Stars Open Destination Star Trek Germany
Trek Stars Open Destination Star Trek Germany
---
By StarTrek.com Staff
Thousands of Star Trek fans from around the world beamed out to Dortmund for Destination Star Trek Germany, which kicked off on Friday with a franchise-spanning array of Trek guests, a Discovery exhibit, trivia contests, surprise panel "crash"-ing appearances by Trek stars, autographs, photo ops and more.
StarTrek.com was in the house and is pleased to share a recap of Day One:
Meet the Stars
As fans queued up outside the convention hall, 25 Trek guests met the German media that turned out to cover the event.
Walter Koenig noted that he's made peace with being so associated with Trek and Chekov. "Star Trek stood for something," he said. "It spoke to people. It had a social conscience. And it still does in all of its manifestations and iterations. If, alas, I must be known for one role, one show, which is the case, I am happy that it is Star Trek as opposed to anything else."
Mary Wiseman responded to a question about what goes on behind the scenes of Discovery by saying, "A lot of singing goes on backstage, some good, some bad... I provide the bad."
Terry Farrell took to the stage with Rene Auberjonois and Nana Visitor. A journalist asked Farrell how she enjoyed being called Mrs. Nimoy now that she's married to Adam Nimoy. Farrell beamed and enthused, "It's great." Visitor leaned into her friend and former DS9 costar and said, "I love it. If you know Terry and Adam, it's perfect."
Chase Masterson revealed that she lived in Germany for three years as a child. Aron Eisenberg and Max Grodenchik seemed surprised to hear that. "My dad was in the Army," she explained.
Destination Star Trek Museum
Fans understandably ooh-ed and aah-ed at the DSTG's museum space that gathers together remarkable, landmark items from 52 years of Trek.
The items range from comic book art, TNG production sketches, TOS medical equipment, a phaser signed by Patrick Stewart, and the gloves Spock/Leonard Nimoy wore during his heroic/tragic scene in The Wrath of Khan to Chancellor Gowron's costume and a screen-used TOS phaser that had spent decades in a private collection and wasn't seen publicly... til now.
Among the memorable costumes: Alexander's/Michael Dunn's "Plato's Stepchildren" ensemble, Seven of Nine's catsuit, Scotty's engineering jumpsuit from The Motion Picture, The Wrath of Khan and The Search for Spock, and Janeway's Borg costume.
Discovery Props & Costumes Exhibit
Fans could get up close and personal to a variety of Discovery props and costumes, including Starfleet uniforms, a communicator, phaser, and tricorder.
The newest additions to the collection include several Discovery Mirror Universe badges and daggers.
The Original Series Bridge
One of Friday's top destinations was The Original Series Bridge, where fans could enjoy taking a photo in the captain's chair.
A few very lucky fans went beyond the traditional photo opportunity for the chance to share the bridge with Nichelle Nichols and Walter Koenig.
Discovery's Captain's Chair
Other fans chose to take command of the U.S.S. Discovery with their very own captain's chair photo or shared the bridge with a member of the Discovery crew.
Surprise Panel Crashers
Throughout the day, some of the Trek stars popped up briefly on the Voyager Stage to surprise fans at the various panels and events. During the Star Trek Online panel with Aron Eisenberg, for example, Robert Duncan McNeill crashed the occasion.
Later, as Syfy Germany hosted a session with fans, the tandem of Terry Farrell and Mary Wiseman came out to say hi. As one might expect, the fans went just a little crazy. Will such drop-by visits happen all weekend long? Keep an eye on StarTrek.com to find out!
Opening Ceremony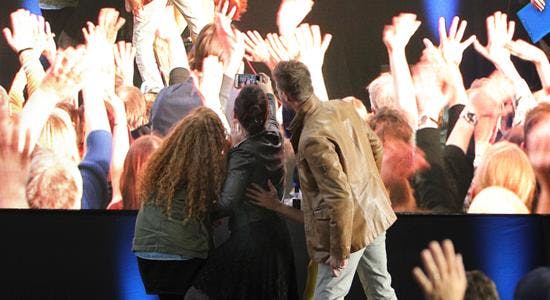 The Enterprise Stage — the event's main room — was the place to be early Friday evening, as the day ended with an official opening ceremony that featured the weekend's master of ceremonies, Jordan Hoffman, welcoming the Star Trek stars to the stage, from William Shatner, Nana Visitor and Connor Trinneer to Nicole de Boer, Jeffrey Combs, Ethan Phillips and the Discovery actors, all of whom greeted the crowd and soaked in the fans' loud applause and, in several instances, extended standing ovations. Here are some of the highlights:
William Shatner (James T. Kirk)
Walter Koenig (Pavel Chekov)
Mary Wiseman (Sylvia Tilly)
Nana Visitor (Kira Nerys), Rene Auberjonois (Odo) & Terry Farrell (Jadzia Dax)
Alexander Siddig (Dr. Julian Bashir)
Cirroc Lofton (Jake Sisko)
Nicole de Boer (Ezri Dax)
Vaughn Armstrong (12 Different Characters)
Jeffrey Combs (8 Different Characters)
Gary Graham (Ambassador Soval)
Ira Steven Behr (Deep Space Nine Executive Producer)
Robert Duncan McNeill (Tom Paris)
Connor Trinneer (Charles "Trip" Tucker III)
Cosplayers
Cosplayers were out in force on Day One of DSTG. We saw Bajorans, Klingons, Vulcans, a gangster, Klingons, some redshirts, lots of fans in Discovery uniforms, and much, much more. Here are a few of the favorites!
Visit StarTrek.com again tomorrow for a recap of Day Two at DSTG. And be sure to check out our social pages for coverage throughout the day.