Shatner in New Hallmark Movie; Signs Ornaments
Shatner in New Hallmark Movie; Signs Ornaments
---
By StarTrek.com Staff
Captain Kirk and Captain Kruge reunite! That's our takeaway from the news that William Shatner, Star Trek's legendary Kirk, and Christopher Lloyd, Star Trek III: The Search for Spock's villainous Kruge will co-star alongside Eloise Mumford and Michael Stahl-David in the upcoming Hallmark Hall of Fame holiday movie Just in Timefor Christmas.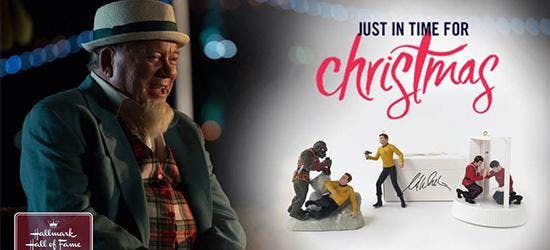 Here's the official synopsis:
Lindsay (Mumford) is faced with a life-altering decision as Christmas approaches: Stay in her tiny hometown and marry boyfriend Jason (Stahl-David) or accept a coveted post teaching at an Ivy League college on the other side of the country. What to do? Fortunately for Lindsay, she has some big-time help in the form of a magical messenger (Shatner) who is able to transport her three years into the future to see how it would all turn out. Christopher Lloyd co-stars as Lindsay's beloved Grandpa Bob.
And here's a special message from William Shatner:
"Had a great time filming my next movie, Just In Time For Christmas with Hallmark Hall of Fame, premiering Saturday, December 5 on Hallmark Channel USA. Watch the trailer and enter to win some prizes including a Star Trek ornament I've signed!" -- William Shatner
To get your hands on an ornament, go to facebook.com/hallmarkhalloffame. Just in Time for Christmas will air Saturday, December 5 at 8 pm EST/7 pm CST.