LeVar Burton's Reading Rainbow Campaign
LeVar Burton's Reading Rainbow Campaign
---
By StarTrek.com Staff
LeVar Burton had a simple goal. Via Kickstarter, Star Trek: The Next Generation's Geordi La Forge aimed to raise $1 million in 35 days in order to relaunch his iconic educational program, Reading Rainbow, and make it available for free to schools. Well, he blasted through the $1 million threshold in just 24 hours. And now, with a little help from his Star Trek friends and colleagues -- among them William Shatner, Patrick Stewart, Kate Mulgrew, Jonathan Frakes, Jeri Ryan, Brent Spiner, Marina Sirtis, Michael Dorn, Gates McFadden and Robert Picardo -- he's set a new goal of $5 million by July 2. At $5 million -- and they're at nearly $4 million now -- Reading Rainbow can give free subscriptions to more than 7,500 classrooms in need and expand to mobile/Android.
The "Bring Reading Rainbow Back for Every Child, Everywhere" page at Kickstarter explains all the details of the campaign, but here are some of the highlights. Contributors can pledge anywhere from $5 to $10,000 and receive everything from a website thank you to an autographed Burton headshot to Burton recording a personalized outgoing voicemail message, and from a variety of meet and greet opportunities, tickets to Reading Rainbow Live events with Star Trek stars, to a private dinner with Burton and Spiner (plus the opportunity to wear Geordi La Forge's VISOR).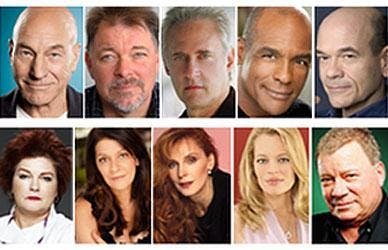 Star Trek fans should definitely check out the details about the Reading Rainbow Live events. Right now, four are planned: The Women of Star Trek (Mulgrew, Ryan, Sirtis and McFadden, joined by Burton), The Men of Star Trek (Frakes, Spiner, Dorn and Picardo, joined by Burton), William Shatner (in Los Angeles, joined by Burton) and Patrick Stewart (in New York, joined by Burton).
Visit the Bring Reading Rainbow Back for Every Child, Everywhere Kickstarter page to join the cause.