FIRST LOOK: Hallmark's Star Trek Ornaments for Christmas 2014
FIRST LOOK: Hallmark's Star Trek Ornaments for Christmas 2014
---
By StarTrek.com Staff
Hallmark, Star Trek and Christmas have been synonymous since 1991, when Hallmark first introduced its Keepsake Ornaments inspired by the Star Trek universe, from the franchise's diverse characters to its starships and even to specific stories/scenes. Each year, fans eagerly await the arrival of Hallmark's latest additions to their Star Trek line of Keepsake Ornaments and today we can reveal and show you the four new Star Trek ornaments that are available now at Hallmark Gold Crown stores across the United States.
They are: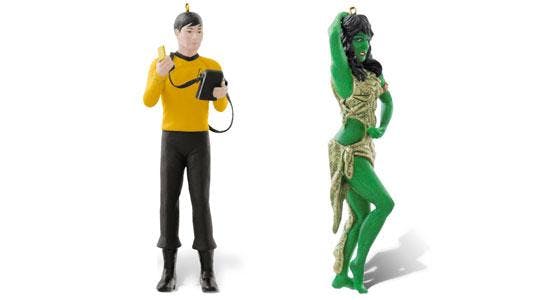 • Lieutenant Hikaru Sulu — The versatile and reliable helmsman operates a tricorder and communicator in this ornament sculpted by Keepsake artist Anita Marra Rogers. Sulu is the fifth in a Keepsake Ornament series titled Star Trek Legends, which each year features a TOS character. The ornament is 4 ¼" high and costs $14.95.
• Vina —  This limited-quantity ornament celebrates the 50th anniversary of the production start of "The Cage," Star Trek's first pilot. It depicts the human woman as a dancing Orion slave girl as seen by Captain Christopher Pike in a Talosian-induced illusion. Sculpted by Keepsake artist Valerie Shanks, Vina stands 4" high and sells for $14.95.
• U.S.S. Vengeance — Keepsake Ornaments' first starship from the 2013 feature film Star Trek: Into Darkness joins the line in 2014. This rendition of the Federation Dreadnought-class ship that met its end in San Francisco lights up with the press of a button. The ornament by Keepsake artist Orville Wilson is 6" long and battery-powered (batteries included). It sells for $32.95.
• "The Devil in the Dark" — Mr. Spock attempts a Vulcan mind meld to communicate with the silicon-based life form known as a Horta in an ornament by Keepsake artist Valerie Shanks. Inspired by the episode of The Original Series, the ornament plays dialogue from this iconic scene. The ornament is 4 1/2" long and battery-operated (batteries included). It sells for $29.95.
The products are available now as part of the Keepsake Ornament Premiere event at Hallmark Gold Crown stores nationwide and will remain available for as long as supplies last. Collectors should be aware that far fewer Vina ornaments have been produced than the other three and may be hard to come by after the weekend.
Visit Hallmark.com/Keepsakes for additional details and to see the entire line of Keepsake Ornaments for 2014.